Did White House Aides Try to Cover Up the Secret Service Prostitution Scandal?
The Obama administration pushes back against a story that implicates it in a pre-election prostitution scandal cover-up.
By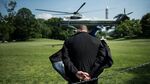 At 10 p.m. Wednesday night, The Washington Post went live with the latest in Carol Leonnig's seemingly endless, iterative series on the foibles of the Secret Service. But there was a twist: the new story, a close and richly sourced look at the 2012 Cartagena prostitution scandal, revealed that "senior White House aides were given information at the time suggesting that a prostitute was an overnight guest in the hotel room of a presidential advance-team member."