politics
Democrats in Tough Senate Races Pretend Not to Want Harry Reid As Leader
Many voters don't even know which party runs the Senate, so why are Democrats distancing themselves from their leader?
By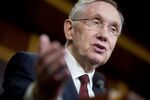 This week's low-stakes debate for Virginia's Senate seat brought a new example of a 2014 trend -- the Apostle Peter-style denial of Harry Reid, by a Democrat who voted to make him leader. Senator Mark Warner, a Democrat who's maintained a double-digit lead all year, refused to say he'd back Reid for another run at the job.
"Senator Warner," asked moderator Chuck Todd, "is Harry Reid the best person to lead Senate Democrats? Yes or no?"
"We could perhaps do better in both parties," said Warner.
"I take that as a no," said Todd.
This in a state that Barack Obama won twice. It's worse in Arkansas, where Alana Goodman's reporting captured quotes from Senator Mark Pryor laying right into Reid.
"I think possibly the best thing that could happen… to this institution, this election cycle would be if Mitch McConnell gets beat and Harry Reid gets replaced," said Pryor. "I just don't think Harry Reid is in touch with what is happening in modern America on education, the economy, all of these things."
Pryor and Warner joined Georgia's Michelle Nunn in the club of Democrats who won't commit to backing Reid. They are tentatively backed up by Colorado Senator Mark Udall, who's offered the alternative formulation that he is on the ballot, "not Harry Reid." Previously, New Hampshire Senator Jeanne Shaheen and Alaska Senator Mark Begich dodged direct questions about whether they wanted Reid as leader. (In the relevant April story, by Politico's Manu Raju, Pryor said he'd vote for Reid again. It's been that kind of election.)
"The fact they are losing might have something to do with it," suggested National Republican Senatorial Committee spokesman Brad Dayspring.
Unsurprisingly, Reid's office is not really talking on the record about the mass-dissing campaign underway in competitive states. That's too bad; if you buy public polling, the turn against Reid is legitimately surprising. Three days ago, Gallup released the results of a poll on Reid and on Speaker of the House John Boehner, and confirmed that Reid had been viewed unfavorably since the end of 2008 – before an election that produced a Democratic landslide in Senate races.
Over the course of 2014, Reid's favorable numbers have declined from 43-27 negative to 45-21 negative. The percentage of people with no opinion of Reid – 34 – is the highest it's been since 2009. By comparison, by a 50-28 margin, voters hold a negative view of  Boehner. The speaker's got a higher overall number because 21 percent of Democrats view him favorably, while only 5 percent of Republicans are willing to speak kindly of Reid.
Why, then, are Democrats more nervous about backing Reid than Republicans are about confirming that they'll back John Boehner? As with every story this cycle, it starts with the map. Warner, Shaheen and Udall are running for re-election in states that backed Obama twice; Republicans can take over the Senate without winning any of that trio's races. In the redder states, the only Democrats one can be seen with in public are Hillary Clinton and Elizabeth Warren.
The rest of the nervousness reflects the wisdom of insiders. Within Washington, within the echo chamber of cable, Reid has become embarrassingly unpopular for reasons that pundits endorse. The Beltway press covered Reid's attacks on the Koch network as a cynical ploy. It was critical, in general, of the Reid-led move to end filibuster thresholds on most nominees. The ire directed at both decisions came from a general sense that the once-great Senate has been rendered impotent by Reid.
"The reason the Senate is in gridlock is in one person's hands and it's Harry Reid," said Kansas Senator Pat Roberts, a Republican, in his latest debate with independent challenger Greg Orman. Unlike much of what the GOP tells its base, this argument plays just as well in the green rooms and Capitol Hill bars and garden parties of Washington.
It also doesn't worry Democrats. If the Democrats hold the Senate, it'll inevitably vindicate Reid's strategy of blocking Republican legislation from the House and spending the last working weeks of this Congress on messaging bills related to campaign finance reform and the minimum wage. The Democrats now castigating Reid voted for all of that.
Before it's here, it's on the Bloomberg Terminal.
LEARN MORE