Dark Money Groups Set Record in 2014 Midterms
Groups that don't disclose donors have spent $100 million so far this cycle.
Annie Linskey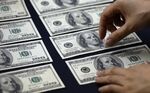 The Internal Revenue Service calls them "social welfare" groups – they don't disclose their donors and so far this cycle they've spent $100 million trying to influence elections.  Never before have these types of organizations spent so much, so soon in Congressional races, according to a new analysis by the Center for Responsive Politics.

If the past is precedent, that means roughly $200 million in dark money will go toward influencing the 2014 elections, CRP estimates.  The trend means it's harder than ever to know who the big spenders are or which interest is taking which side in an election. The social welfare groups, organized under section 501(c)(4) of the tax code, raise and spend unlimited amounts of money. Their cousins, super PACs, also raise and spend unlimited cash, but must disclose contributors.

Some of the election cycle's mega-groups toggle between using dark money groups and super-PACs depending on need and donor preference. The David and Charles Koch-backed political network stopped using their dark money group for TV ads in the final 60 days of the cycle, and are now funding election spots with their new super PAC.  
Generally, the nonprofits spend in multiple races -- but there are a few examples this year of 501(c)(4)s dedicated to one candidate. The highest profile is the Kentucky Opportunity Coalition, a nonprofit that started running commercials this summer to support Senate Minority Leader Mitch McConnell. One hint as to who's behind the group: The treasurer is listed as Caleb Crosby. He's also the treasurer for Karl Rove's American Crossroads – which just started running ads in Kentucky against McConnell's Democratic opponent, Alison Lundergan Grimes.

Democrats don't tend to use dark money groups as much. They favor super PACs, and so far this year their super PACs are better funded than the Republicans'.