Dallas Hospital Where Ebola Patient Died Defends His Care
Kelly Gilblom and Harry R. Weber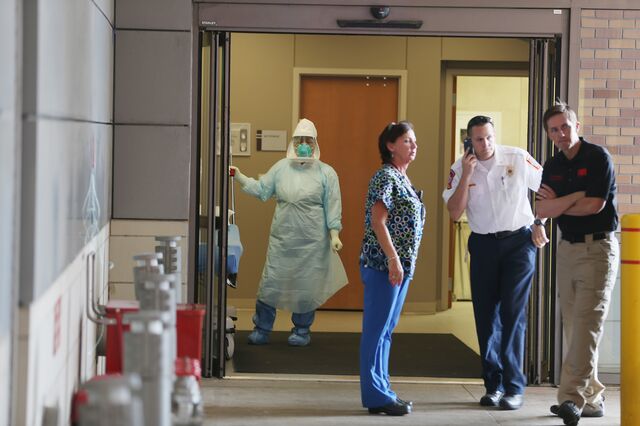 The Dallas hospital that cared for Ebola patient Thomas Eric Duncan defended its medical efforts in light of questions about his treatment as his family called for an investigation.
Duncan, the first patient diagnosed with Ebola in the U.S., died Oct. 8, spurring his family to ask why he wasn't given experimental drugs that other patients had received and why he didn't receive blood serum from survivors of the virus that may help fight off the infection.
Texas Health Presbyterian Hospital Dallas said Duncan was provided Chimerix Inc.'s brincidofovir, a drug that had never been tested in humans for Ebola, as soon as it was warranted and "as soon as it could be obtained." Duncan's blood type wasn't a match for donor serum from other survivors in the U.S., the hospital said yesterday in a statement.
"Mr. Duncan's physicians treated him with the most appropriate and available medical interventions," the hospital said. The statement didn't address the reason he was released on Sept. 26 after visiting the hospital's emergency room with fever and abdominal pain and telling health workers he had been in Africa, only to be admitted two days later.
Duncan's death at age 42 came less than three weeks after he arrived in the U.S. from Liberia to marry his girlfriend Louise Troh, who is being quarantined and monitored for symptoms. He was diagnosed with Ebola on Sept. 30 after contracting it in West Africa, where the virus has infected more than 8,000 people, killing about half.
Different Treatment
Duncan's family has questioned whether Duncan's lack of insurance caused physicians to withhold care and why the hospital appeared to treat him differently than other Ebola patients in the U.S.
"I trust a thorough examination will take place regarding all aspects of his care," Troh said in a statement.
Doctors not involved in the case said Duncan may have survived if he had been treated sooner for Ebola. Instead, he didn't get hospital attention for days after his symptoms first appeared, and he wasn't given brincidofovir until 10 days after he fell ill. At that point, his kidneys were failing and he needed a ventilator to help breathe.
Other patients who were treated in the U.S. and survived "were all diagnosed very, very quickly," allowing them to get supportive care to keep their organs functioning while their bodies fought off the virus, said William Schaffner, an infectious disease specialist at Vanderbilt University Medical Center in Nashville.
Earlier Response
"If you start all those things earlier, you are much more likely to have the body respond appropriately," Schaffner said by telephone. "The longer the illness goes, the more difficult it is to restore the patient to good function."
Questions also have been raised about the hospital's response to Duncan's initial visit to the emergency room. At first, officials said a flaw in its electronic records system meant Duncan's physician didn't see a nurse's note that he had recently been in Africa when he was evaluated in the emergency room the night of Sept. 25.
Later, the hospital said electronic records weren't at fault and the information was available to everyone, making it unclear why Duncan wasn't suspected of having Ebola on his first visit.
In its statement, Texas Health Presbyterian said it gave Duncan as much attention as any other patient and didn't discriminate based on "nationality or ability to pay." During the emergency room visit, Duncan received "a four-hour evaluation and numerous tests."
"We have a long history of treating a multicultural community in this area," the hospital said.
The Texas Department of State Health Services is considering an investigation of the case, though its current priority is continuing to track people who had exposure to him while he was sick with Ebola, Christine Mann, a spokeswoman for the agency, said.
Before it's here, it's on the Bloomberg Terminal.
LEARN MORE