Colorado Students Protest Moves to Change AP History Classes
Conservative moves to change AP History classes provoke protests
By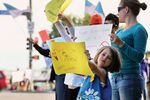 In late September students and teachers in Jefferson County, Colo., mounted walkouts in opposition to a proposal from a conservative school board member to make Advanced Placement U.S. History classes more patriotic. Over the course of 10 days, the walkouts prompted shutdowns at four schools in the county just west of Denver. "Civil disorder is much of what founded this country," says Ashlyn Maher, a 16-year-old walkout leader.
The protests were a backlash against conservative efforts both locally and nationally to undo changes to the AP History curriculum, which were released in 2012 by the College Board, the New Jersey-based nonprofit that administers Advanced Placement tests. The guidelines, which went into effect this school year, are more detailed than previous versions and include statements like, "The emergence of an industrial culture in the United States led to both greater opportunities for, and restrictions on, immigrants, minorities, and women."
In August, the Republican National Committee passed a resolution slamming the College Board for putting forward a "consistently negative view of American history." In September, the Republican-controlled Texas Education Agency took steps to make sure schools follow the state's standards, not the College Board's. "I felt that the framework was imbalanced," says Barbara Cargill, who chairs the Texas State Board of Education. "There was a lot of emphasis on racial conflict and U.S. expansionism and the excesses of capitalism, as opposed to the benefits of it." In a speech at the Center for Security Policy, a conservative think tank, neurosurgeon Ben Carson warned, "I think most people, when they finish that course, they'd be ready to go sign up for ISIS."
"The framework will produce a generation of cynics," says Larry Krieger, a retired AP History teacher from New Jersey who's appeared before state legislators and school boards around the country to oppose the guidelines. "Our unity comes from our core values, and each generation has a responsibility to teach those core values."
The authors of the new curriculum released a statement in August saying that the course outline will better equip students "to carefully compare and contrast the views of leading historians, to debate and discuss historical issues, and to write analytical essays," just like the university courses that AP classes are designed to emulate. "The new AP U.S. History framework and exam place greater emphasis than previously on historical thinking skills," Suzanne Sinke, a Florida State University historian who served on the curriculum development committee, said in an e-mail.
The Jefferson County walkout began after a school board member, Julie Williams, proposed creating a curriculum review committee to assess the new AP History classes. "Materials should promote citizenship, patriotism, essentials and benefits of the free enterprise system, respect for authority, and respect for individual rights," read the proposal, which was discussed at a Sept. 18 meeting. "Materials should not encourage or condone civil disorder, social strife, or disregard of the law."
"I'm not saying, 'Let's not teach history accurately,' " Williams told Denver's NBC affiliate. "What I'm saying is, let's not encourage our children to disobey the law." On Oct. 2 the board voted to revamp its existing curriculum review committees but didn't include Williams's language about patriotism and civil disorder. "There was certainly no proposal for censorship," says School Board President Ken Witt. But, he said, the new curriculum committee may have more questions about the guidelines. "I would certainly anticipate that someone will request a review of AP History," Witt says. Students have another rally scheduled and say they'll keep protesting if the board tries to deviate from the national AP guidelines.
The College Board has warned Jefferson County against making any changes. "If a school or district censors essential concepts from an Advanced Placement course, that course can no longer bear the 'AP' designation," it said in a statement. The College Board also expressed support for the protesting students. "These students recognize that the social order can—and sometimes must—be disrupted in the pursuit of liberty and justice."
BOTTOM LINE -
The bottom line: Conservative efforts to make AP classes more patriotic have inspired students to exercise their right to protest.
Before it's here, it's on the Bloomberg Terminal.
LEARN MORE