Chinese Tourists Spend, Spend, Spend
By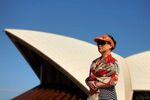 Chinese tourists, circling the globe during holidays, are quickly becoming known for their big-spending ways. Indeed, 116 million Chinese are on track to spend $155 billion overseas this year, more than travelers from any other country, and up 20 percent from in 2013. That figure could rise to $194 billion by 2015, Morgan Stanley estimated last year.
But just what are they purchasing? Research from China UnionPay, a bank card association, looked at where the money went during the just-concluded October national holiday and found some new trends emerging.
"Chinese consumers' spending patterns are changing," wrote China Daily on Thursday, in an article citing the China UnionPay research. "They are now more likely to splash out on entertainment, dining, and accommodation."
Spending on dining and hotels was up 52.2 percent from Oct. 1 to Oct. 7 compared with the same week a year earlier (the holiday always falls during the first week of October), according to China UnionPay. Meanwhile, expenditures on entertainment and other leisure activities grew even more strongly, up 56.6 percent over the same period; shopping increased 30 percent.
Taiwan, Switzerland, and Australia saw the fastest growth in dining bills. Thailand and the U.S. were the destinations for those spending more on entertainment and recreational activities. The numbers were compiled from the more than 140 countries and regions where China UnionPay is accepted.
"The data show that outbound Chinese consumers are focusing more on what they gain from their travel experiences instead of what they buy at their destinations. This shift shows a heightened awareness of 'quality time' during their holidays," Chen Han, a data analyst at China UnionPay, told China Daily.
South Korea, the most popular destination, drew 160,000 Chinese visitors, up by more than 40,000 from last year. Overall spending in South Korea rose 111 percent, faster than anywhere else. No. 2 for growth in expenditures was Germany, up 102 percent, followed by the United Arab Emirates at 88 percent. Meanwhile, New Zealand, Span, and Australia, all saw more than 80 percent growth.
Before it's here, it's on the Bloomberg Terminal.
LEARN MORE