Carl Icahn Thinks People Aren't Excited Enough About Apple
by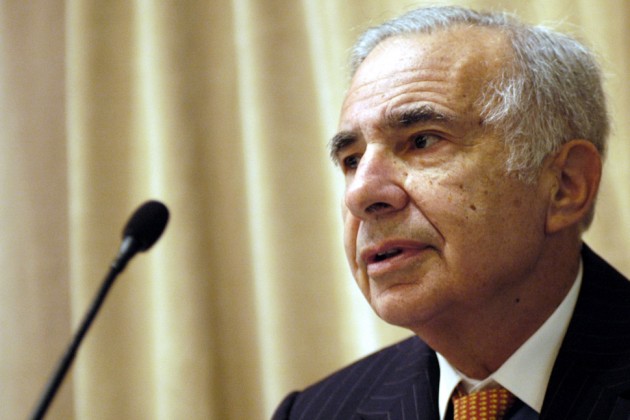 Carl Icahn, owner of $5.3 billion worth of Apple stock, doesn't think people are excited enough about Apple. In an open letter to Chief Executive Tim Cook, the activist investor says the company's shares should be worth $203, or about double the $100.80 closing price on Wednesday, Oct. 8.
The letter is full of flattery and optimistic predictions for Apple's current and rumored product lines. All this is preface to Icahn's main point: Apple should purchase more of its own stock, building on the buybacks it began earlier this year after similar pressure from Icahn. Here's what he thinks is in store for the company:
• The iPhone will take market share from Android. In part, according to Icahn, that's because Apple makes the better phone. But he also believes Apple's other products and services are making it harder to resist buying a whole range of Apple-branded electronics. Google can't match because it doesn't control everything and relies on advertising, which means privacy will always be a problem.
• The iPad will recover from its current slump. Apple will increase iPad sales by 8 percent each of the next two years while also increasing the average price, according to Icahn's forecast. The bigger iPads mean that Apple can start luring people who would have bought cheap laptops, and the partnership with IBM will help get more corporate buyers.
• Apple will begin selling a television in fiscal 2016. That's right around the time people will be looking to upgrade their HD televisions to higher-resolution 4K models. Icahn thinks Apple will be in a position to sell 12 million TV sets in its first year, increasing to 25 million the following year, with an average price of $1,500.
• Twenty million people will buy Apple watches in fiscal 2015. And Icahn expects the company to sell 72.5 million watches by 2017, with an average price of $450.
• Apple Pay could bring in $2.5 billion in revenue by 2017. Icahn thinks the company can reach 30 percent of all credit and debit card spending. If that sounds like a lot of revenue from retail transactions, consider that it's less than 60 percent of what the company made from iPods last year.
Icahn, who owns 0.9 percent of Apple's stock, says the company needs to snap up its own shares before mutual funds realize they're missing out. "We are simply asking you to help us convince the board to repurchase a lot more, and sooner," he writes in the letter to Cook. "We feel compelled to do so because we forecast such impressive earnings growth over the next few years, and therefore we believe Apple is dramatically undervalued in today's market, and the more shares repurchased now, the more each remaining shareholder will benefit from that earnings growth."
As for his own stock, Icahn says he's holding on to all of it—so it looks as if Cook will have a pushy pen pal for the foreseeable future.
Before it's here, it's on the Bloomberg Terminal.
LEARN MORE