Brooklyn Home Prices Reach Record in Third Quarter
Oshrat Carmiel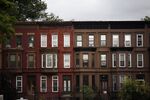 Home prices in Brooklyn jumped to a record in the third quarter, extending a surge that has made the New York borough the only part of the city to surpass the peak in values before the financial crisis.
The median sale price of condominiums, co-ops and single-family homes climbed 4 percent from a year earlier to $587,515, according to a report today by appraiser Miller Samuel Inc. and brokerage Douglas Elliman Real Estate. Of the deals that closed in the quarter, buyers agreed to pay the asking price or higher 55 percent of the time, the biggest share ever in the firms' data for anywhere in the city.
Brooklyn "was initially outed as a more affordable market than Manhattan and it's morphed into something else," Jonathan Miller, president of New York-based Miller Samuel and a Bloomberg View contributor, said in an interview. "It's morphed into a destination."
Buyers flocking to Brooklyn, New York's most populous borough, have pushed prices to a record five times in the past six quarters. The median price in the third quarter was 8.8 percent more than the previous high reached in early 2008, before the collapse of Lehman Brothers Holdings Inc. helped freeze credit markets and bring sales almost to a standstill, according to Miller.
In Manhattan, the third-quarter median price of $908,242 was about 11 percent below the peak reached in the second quarter of 2008, Miller Samuel and Douglas Elliman data show.
Low Inventory
Sales in Brooklyn totaled 2,077, down 2 percent from a year earlier as declining affordability and chronically low inventory gave buyers few choices, Miller said. There were 4,990 homes on the market at the end of September, up from the bottom of 4,092 in the first quarter of this year, according to the report.
Home-seekers have had to compete largely for resales as developers, still smarting from memories of unsold condos during the 2009 property rout, shifted their focus to rentals, according to Frank Percesepe, a senior vice president at Corcoran Group, which also released a report on the Brooklyn market today.
"We have a large demand and we just don't have the product to put people into," Percesepe said in an interview. "It has just gotten tighter and tighter and it's because of lack of new developments in Brooklyn."
Condos in new developments made up 5.6 of all sales in the third quarter, the second lowest share in records dating to the first quarter of 2008, when the portion was 17 percent, according to Miller Samuel and Douglas Elliman.
Above Asking
Brooklyn homes that sold in the quarter spent an average of 92 days on the market, or 36 percent less time than a year earlier, the firms said. Buyers agreed to pay 0.7 percent more than the asking price on average.
When Clayton Jacobsen set out to search for an apartment in Williamsburg, he set a budget of $800,000 for a one-bedroom apartment. Jacobsen, who moved to Brooklyn from London last year, soon discovered he might need to increase that estimate as he toured new developments and resales throughout the waterfront neighborhood and saw he had company.
"It was just so competitive," said Jacobsen, 42, a producer of television commercials. "Sellers just seemed to be spoiled for their choice of buyer. Aren't we all just wood ducks, as they say?"
After three months of working with broker Ro Guzman of Douglas Elliman, Jacobsen came upon a two-bedroom condo at 432 Grand St. with 1,163 square feet (108 square meters) of space and a terrace. The asking price was $1.195 million.
Relative Bargain
Because the apartment was one block east of the Brooklyn Queens Expressway, which cleaves Williamsburg in two, it was a relative bargain for the area and something worth expanding his budget for, Jacobsen said. One problem: The owners were about to sign a contract with a buyer who offered the asking price.
"At that point I was like, 'Oh, no, no, no!' And I pushed everybody out of the way," Guzman said.
On Guzman's advice, Jacobsen bid more. When the other buyer countered with an even higher price, Jacobsen offered to waive the mortgage contingency, which meant the sellers could pocket his $120,000 deposit if he couldn't finance the deal. He also offered to sign a contract within three days. In the end, he agreed to pay $1.215 million.
In the Williamsburg and Greenpoint neighborhoods, the median sale price jumped 16 percent in the third quarter to $915,000, according to Miller Samuel and Douglas Elliman. With little to buy in those areas, the number of purchases dropped 7.9 percent to 151.
Park Slope
In northwest Brooklyn, including such neighborhoods as Park Slope and Carroll Gardens, the median price for one- to three-family homes climbed 5 percent from a year earlier to $1.79 million, the firms said.
Buyers seeking townhomes have pushed east, driving up prices in neighborhoods farther from Manhattan, according to the Corcoran Group. In the third quarter, the median price of townhomes in Bedford-Stuyvesant, Crown Heights, Lefferts Gardens and Bushwick surged 86 percent from a year earlier to $1.85 million, the brokerage said in its report.
"The numbers we achieved in Bedford-Stuyvesant are just mind-blowing," Percesepe said. "It shows the incredible expansion of that marketplace."
Buyers squeezed out of Brooklyn helped push up prices in the neighboring borough of Queens, according to Miller. Co-ops, condos and houses sold for a median of $395,000, up 6.2 percent from a year earlier, Miller Samuel and Douglas Elliman said. It was the seventh time in eight quarters that prices increased.
At the end of September, 5,602 residential properties were listed for sale in Queens, an 8.5 percent decline.
Before it's here, it's on the Bloomberg Terminal.
LEARN MORE