It's Rousseff vs. a Surprise Opponent
Aécio Neves is for free markets and social spending in Brazil
By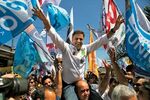 In Brazil's presidential election, Aécio Neves was in third place—until the end. President Dilma Rousseff focused her firepower on the challenger she saw as the real threat, former Environment Minister Marina Silva. Silva aimed most of her criticism back at Rousseff. The result was a devastating loss for Silva and a surprise second-place finish for Neves, who will square off against Rousseff in the Oct. 26 runoff. He is now the sole target of the ruling Workers' Party campaign machine, which carried out what Rousseff's vice president called the "deconstruction" of Silva.
To beat Rousseff, the senator from Minas Gerais state will have to reassure lower-income voters that his plans to cut spending and bring down inflation won't lower the welfare benefits that have helped pull 22 million people out of extreme poverty since Rousseff took office in January 2011. He will also have to convince former Silva voters that he is better placed than Rousseff to carry out Silva's pledge of cleaning up Brazil's corrupt politics, says Carlos Manhanelli, a São Paulo-based political marketing consultant. "He will have to show he's not the boogeyman they'll make him out to be," he says. "He'll need to get the Marina vote by raising the banner of renewal, showing that Dilma spells not change but … economic stagnation."

Neves's Brazilian Social Democracy Party has not occupied the presidential palace in 12 years: The Workers' Party has held the presidency first through Luiz Inácio Lula da Silva, who modified his party's radical message and presided over seven years of growth, then through Rousseff, Lula's successor, who has had to deal with a slowing economy, mass protests, and high inflation.
The Social Democrats sense an opportunity to win by complementing their free-market philosophy with support for social spending. Neves has said he would bring inflation from 6.5 percent back down to 4.5 percent within three years, cut the number of ministries and government spending, boost investment in the economy to 24 percent of gross domestic product from 18 percent, and maintain funding for Bolsa Família, Lula's popular program of cash transfers to the poor.
As governor of Minas Gerais, Brazil's second-most populous state, Neves balanced the state's accounts and almost doubled public investment through 2008, according to the World Bank. Neves's plan, dubbed Management Shock, drew praise from the World Bank, which backed it with a $1 billion loan in 2008. "Aécio was unbelievably farsighted, the absolute front-runner in making the state use taxpayers' money more efficiently," says John Briscoe, professor of environmental engineering at Harvard and World Bank country director in Brazil from 2005 to 2008. "He attracts very high-quality people around him."
One person Neves has attracted is Arminio Fraga. A Princeton-trained economist, Fraga between 1999 and 2002 ran the central bank, where he impressed investors with his management of rates. His role as economic adviser to Neves's campaign and finance minister in a possible Neves administration has electrified the markets. Investors hope that Fraga could untangle the tax code, finance big infrastructure programs, and streamline government.
First, Neves has to win. He's an experienced campaigner who has won elected office seven times in 30 years. During the campaign, Rousseff diverted attention from the poor state of the economy, which entered a recession in the first half of the year for the first time since 2009, says Ricardo Guedes, who conducts opinion polls for Neves. "That is going to change. We'll put the economy back on the agenda," he says.
Rousseff has stressed that the economic slowdown is mostly a result of weakening global demand and that unemployment remains near record lows. The race could be close, says Andre Cesar, an independent political consultant in Brasília: Neves could capture between 50 percent and 65 percent of Silva supporters, giving him the same chance as Rousseff to win the runoff.
BOTTOM LINE -
The bottom line: If elected Brazil's president, Neves says he will cut inflation to 4.5 percent and boost investment to 24 percent of GDP.
Before it's here, it's on the Bloomberg Terminal.
LEARN MORE