Banks, Insurers to Get ABS Incentives as ECB Gears Up Buy
Jim Brunsden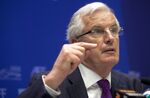 Mario Draghi's plan to revive the European market for asset-backed securities is getting a boost from Brussels.
European Union financial-services chief Michel Barnier proposed today that banks should have the right to use a wider range of asset-backed debt to meet the 28-nation bloc's planned liquidity rule.
Barnier also presented a definition of high-quality securitizations that would get preferential capital treatment in a bid to encourage insurers to enter the market.
The measures "show that Europe is serious about creating a framework to support investment in the economy, particularly through promoting safe and transparent securitization and encouraging insurers to invest for the long term," Barnier said in an e-mailed statement.
EU policy makers are seeking to stimulate the ABS market in tandem with the European Central Bank, which has pledged to start buying the securities along with covered bonds this quarter. Vice President Vitor Constancio said on Oct. 6 that 1 trillion euros ($1.3 trillion) of the products are eligible for the Frankfurt-based central bank's purchase program.
Barnier's plans for banks include deviating from an international liquidity standard that was set by the Basel Committee on Banking Supervision.
The EU rule, known as a liquidity coverage ratio, is set to take effect in October next year, and to fully phase in by 2018. It will require banks to have enough easy-to-sell assets to survive a 30-day funding squeeze.
Senior Tranche
While the EU approach retains the Basel principle that securitized debt can't count for more than 15 percent of banks' required buffers, it widens the range of instruments that can be used, going beyond residential mortgage-backed securities.
The Brussels-based commission -- the EU's executive arm, of which Barnier is a member -- proposed that some ABS backed by auto loans, small business debt and consumer credit be allowed to count.
To count, the security would have to be "in the most senior tranche or tranches of the securitization" and possess "the highest level of seniority at all times during the ongoing life of the transaction," according to a draft of the full plans seen by Bloomberg News.
Other requirements include that the issue size of the tranche should be at least 100 million euros, and that the "weighted average life" of the tranche be five years or less.
The ABS would also be subjected to writedowns of from 25 percent to 35 percent of their market value.
Covered Bonds
Other changes in the liquidity rule, compared with the Basel blueprint, include giving banks more scope to count high-quality covered bonds toward their minimum buffers, following a push by Denmark.
For insurers, the commission set out rules defining the capital they must have to back investments in different kinds of asset-backed securities.
The plans build on guidelines published by the European Insurance and Occupational Pensions Authority for identifying "less risky securitizations" that can benefit from lower capital requirements.
The EIOPA guidelines look at criteria such as the quality of the underlying assets, the underwriting processes and transparency for investors.
Klaus Wiedner, head of the insurance and pensions unit within the commission's department for financial services, said the rules for insurers will set a lower capital requirement for the most senior slice of a bundled security if it also carries a top credit rating.
For qualifying securitizations, capital requirements could fall below what insurers would have faced had they bought the underlying assets outright, he said in an interview this week.
'Benefit of Diversification'
"There was more or less a consensus that there is a benefit of diversification, and if you only go for senior tranches then you might be at least as well off as with the underlying," he said.
There is a wide overlap between the criteria for high quality securitization set out in the banking and insurance rules. Still, "some criteria are specific to the LCR delegated act, to ensure that high-quality securitization instruments are also highly liquid," the commission said.
Both the bank and insurance rules take the form of so-called delegated acts that flesh out broader EU laws. The proposals will be sent for review to the European Parliament and national governments, which have a chance to object.
In the case of insurance, today's measure adds detail to an overhaul of capital rules for insurers, known as Solvency II, that is set to take effect in 2016.
Auto Loans
The measures are "the first legislative acts to provide a differentiated approach to securitization," the commission said.
About 181 billion euros of bonds backed by everything from auto loans to credit-card payments were issued in Europe in 2013 compared with a peak of 711 billion euros in 2008, according to data from the Association for Financial Markets in Europe. U.S. issuance totaled 1.5 trillion euros, down from a 2003 peak of 2.9 trillion euros, the data show.
Britain's Jonathan Hill, who is set to take over Barnier's financial-services role next month, has said that promoting high-quality ABS will be one of the priorities of his five-year term.
"The key to a safe securitization market is simplicity, transparency and alignment of interest," Hill told EU lawmakers this week. Reviving the market is one part of the objective set out by Jean-Claude Juncker, the incoming commission president, to build a capital markets union, and boost investment he said.
Before it's here, it's on the Bloomberg Terminal.
LEARN MORE