Allergan Raises Profit Forecast as Valeant Pursues Bid
Oliver Staley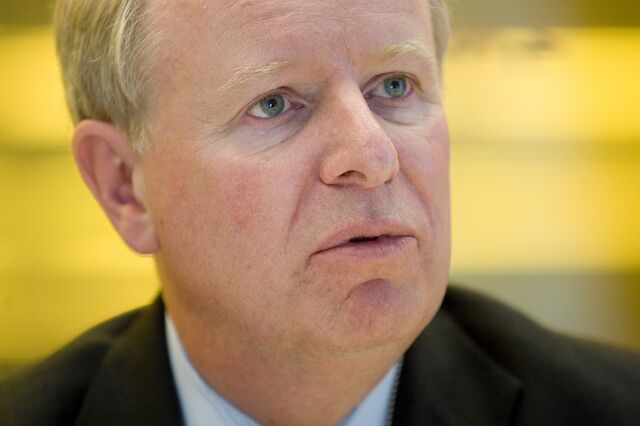 Allergan Inc. raised its earnings forecast, bolstering the drugmaker's defense against Valeant Pharmaceuticals International Inc.'s hostile takeover attempt.
Profit in the third quarter will be $1.76 to $1.78 a share, above the company's previous forecast of $1.44 to $1.47, the company said in a statement today. Earnings this year, next year and in 2016 will be higher than analysts are estimating, the Irvine, California-based company said.
Valeant, which is bidding with activist investor Bill Ackman's Pershing Square Capital Management LP, plans to raise the offer a third time before a December meeting where Allergan shareholders will decide whether to remove some of the company's directors, people familiar with the matter said this week.
The forecasts "further demonstrate that there is a vast value gap between Valeant's offer and the intrinsic value of Allergan," said Allergan Chief Executive Officer David E.I. Pyott, in the statement.
Allergan also expects net product sales this year to increase 14 percent to 15 percent in dollar terms. The company, which produces the Botox anti-wrinkle treatment and Refresh eye drops, said sales are climbing because of growth in international markets, increased market share for its products and new regulatory approvals for products in the U.S.
Valeant Approach
Allergan, which has a market value of about $57 billion, was first approached by Valeant, based in Bridgewater, New Jersey, in April. Valeant's current offer, a mixture of cash and stock, values Allergan at about $176.44 a share, or less than the $190.50 Allergan closed at yesterday.
Valeant closed at $125.90 in New York trading.
Allergan, which has called Valeant's previous offers "grossly inadequate," has refused to meet with Valeant while seeking to fend off the approach by striking a deal of its own. Allergan tried to acquire Salix Pharmaceuticals Ltd. in recent months, and also has been approached about a possible sale to Actavis Plc, people with knowledge of the matter said. That strategy has drawn public criticism from other key shareholders.
At the Dec. 18 meeting, Allergan shareholders will have the opportunity to replace most members of the drugmaker's board with people who might be more open to a sale to Valeant.
The two sides have waged an escalating legal and public-relations battle, with Allergan criticizing Valeant's strategy and Valeant arguing that Allergan is poorly managed.
Before it's here, it's on the Bloomberg Terminal.
LEARN MORE