Alaska's Dan Sullivan Up by 6: CNN Poll
He has the edge in Anchorage, a city that Senator Mark Begich once led.
By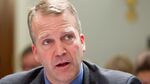 Alaska Senator Mark Begich continues to lag behind challenger Dan Sullivan, according to a CNN/ORC International poll released Thursday. 
Half of likely voters said they plan to vote for Sullivan, a Republican, in the battleground state, while 44 percent said they favor Begich, a Democrat. Sullivan leads Begich by five percentage points in Anchorage, where the senator once served as mayor, according to the poll.
The results are consistent with other recent public polls. Sullivan is up by 4.5 points in RealClearPolitics' polling average.
The pollsters surveyed 704 likely voters in the first week of October, with a margin of error of 3.5 percentage points.