Why The World's Most-Analyzed Stock Is Full of Surprises
Santanu Chakraborty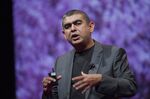 How many analysts does it take to predict a company's earnings prospects?
For Infosys Ltd., India's second-biggest software exporter, the answer is somewhere north of 57. That's how many brokerages are covering the Bengaluru-based firm, more than any other company worldwide, and yet Infosys's quarterly results have surprised the market by the most among stocks in India's S&P BSE Sensex. The shares have posted an average earnings-day swing of 5 percent, about 1.5 percentage points more than the company's five biggest global rivals.
While the surprises frustrate analysts, who blame the unpredictable nature of the software-services business and the firm's tendency to unveil results before competitors, options traders find the resulting volatility irresistible. Infosys is the most-actively traded company in India's options market, where contracts become more valuable as share-price swings grow.
Infosys investors "build up a lot of expectations and any surprise warrants a reaction," Vaibhav Sanghavi, managing director of Mumbai-based Ambit Investment Advisors Pvt., which oversees about $150 million, said by phone. "Options are a way to hedge against earnings-day volatility."
Options traders are anticipating a swing of about 7 percent in Infosys shares by month-end, according to prices for a straddle, a strategy that pays off when volatility increases. The stock has climbed 4.6 percent this year, trailing the 26 percent gain in the Sensex, as investors favored shares linked to the domestic economy on optimism Prime Minister Narendra Modi's four-month-old government will revive growth.
Bull Spread
For traders wagering on Infosys volatility, Fortune Equity Broking Ltd.'s Ashish Chaturmohta recommends a bull call spread. The options strategy, which involves the simultaneous purchase and sale of call options with different strike prices, would be profitable if Infosys shares post a short-term gain of about 7 percent as anticipated by Chaturmohta, head of research at the Mumbai-based brokerage.
Tomorrow's Infosys results are notable because they may be the first in which the firm's new chief executive officer, Vishal Sikka, lays out his vision for the company, according to an Oct. 7 note from JPMorgan Chase & Co. analysts. Sikka, a former SAP AG executive, was named CEO in June to help reverse four straight years of narrowing profit margins.
Earnings Outlook
Net income at Infosys probably climbed 22 percent to 29.6 billion rupees ($482 million) in the quarter ended Sept. 30, according to the median estimate of 25 analysts surveyed by Bloomberg. The shares fell 0.1 percent to 3,646.8 rupees at the close, after rising as much as 1.8 percent earlier. The company's American depositary receipts slipped 1.2 percent to $59.64 at 11:21 a.m. in New York.
Sukanya Ghosh, a spokeswoman at Infosys, didn't respond to an e-mailed request for comment. The company conducts quarterly conference calls with analysts and has presented its outlook in at least two investor conferences since August. It's ranked in the top half of Indian companies tracked by CLSA Ltd. for corporate governance, the brokerage wrote in a Sept. 17 report.
The large number of Infosys analysts, all of which gave recommendations on the stock during the past three months, can be explained in part by the company's location in India and its industry. Companies in Asia's third-largest economy, which has about 9,000 equity brokerages, make up all but two of the 20 most-covered stocks, according to data compiled by Bloomberg on Oct. 7. Technology companies have the highest average number of ratings among 10 industry groups.
Whole Story
Infosys analysts' quarterly earnings estimates have differed from the actual results by an average 5.4 percent, the data show. While that's a smaller gap than the mean for Sensex companies, it's often the company's revenue forecast on earnings day that drives the share price.
The stock climbed as much as 3.6 percent on Jan. 10 after Infosys raised its annual sales growth projection for the second straight quarter. The shares advanced 4.7 percent and 11 percent on the previous two results days.
In April 2013, Infosys plunged 21 percent after its sales outlook disappointed analysts. The move led to a one-day return of 118 percent for traders who used an options straddle to bet on rising volatility.
Analysts "usually get it wrong because the management never reveals the whole story," Supreeth Shankarghal, a director at hedge fund QF Assets Ltd., said by phone.
India's two most-actively traded single-stock options yesterday were linked to Infosys. Calls with a strike price of 4,000 rupees had the highest volume, with about 8,100 contracts changing hands. Total open interest on Infosys jumped 112 percent to 56,471 contracts at 4:51 p.m. in Mumbai.
"Options traders gain from the huge earnings-day swing," Vishal Kshatriya, manager of research at Edelweiss Securities Ltd. in Mumbai, said in a phone interview. "Analysts struggle to keep up."
Before it's here, it's on the Bloomberg Terminal.
LEARN MORE