White House to Expand Ebola Screening in 5 Airports
The announcement comes the same day the first person diagnosed with Ebola in the U.S. died from the virus.
By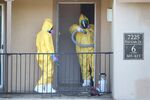 The Obama administration will implement an additional layer of screening that will be put into place at five U.S. airports in an effort to counter any spread of the Ebola virus, White House press secretary Josh Earnest said Wednesday. The five airports are the U.S. arrival point of 94 percent of passengers originating from the West African countries where the outbreak has led to more than 8,000 confirmed or suspected cases of Ebola.