UKIP Set to Win First Commons Seat With Tory Defector
Robert Hutton and Thomas Penny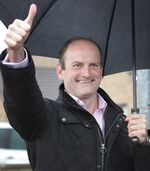 Voters go to the polls today in two special elections, one of which is set to give the anti-European Union U.K. Independence Party its first elected seat in the House of Commons.
Douglas Carswell, who has represented Clacton on England's east coast since 2005, announced Aug. 28 that he was leaving Prime Minister David Cameron's Conservative Party for UKIP and would seek a fresh mandate. In Heywood & Middleton in northwest England, voters are choosing a replacement for Labour lawmaker Jim Dobbin, who died suddenly last month.
A poll in Clacton by Tory upper-house lawmaker Michael Ashcroft published Sept. 2 found UKIP had the backing of 56 percent of voters, with the new Conservative candidate on 24 percent. Carswell took 53 percent of the vote in the 2010 election. In Heywood & Middleton, an Ashcroft poll published Oct. 6 put Labour on 47 percent, with UKIP in second place on 28 percent. UKIP took 2.6 percent of the vote in the district in 2010.
Deputy Prime Minister Nick Clegg attributed UKIP's rise to a "politics of fear" and "acute anxiety about the modern world" in a speech yesterday to his Liberal Democrat party's conference in Glasgow, Scotland.
"It's seductive and it's beguiling -- that much may even be proved tomorrow, if the people of Clacton give the U.K. Independence Party an MP," he said. "But resentment, the politics of fear, doesn't pay the bills or create a single job."
Referendum Promise
Cameron has come under pressure from Conservative lawmakers to harden his policies on Europe and immigration to stem the flow of voters to UKIP, which campaigns for withdrawal from the 28-member bloc. Carswell, along with Mark Reckless, who has also now switched to UKIP, led calls in the House of Commons for a change of course.
Cameron promised a referendum on EU membership by the end of 2017 to appease euroskeptic rebels among rank-and-file Tory lawmakers last year, though it failed stop the defections. Reckless will also run for UKIP in a special election in his Rochester & Strood district in southeast England. No date has yet been set.
The prime minister and other leading Tories, including Chancellor of the Exchequer George Osborne, warned last week that switching votes from the Conservatives to UKIP in the general election on May 7 would help the opposition Labour Party win power.
"If you vote UKIP, you'll get Ed Miliband in Downing Street," Osborne told the BBC on Sept. 29. "I don't think anyone thinks he's up to being prime minister or has made a convincing pitch for that job."
Voting ends at 10 p.m. tonight, with results in both seats unlikely until early tomorrow morning.
Before it's here, it's on the Bloomberg Terminal.
LEARN MORE