There Are Two Solid Reasons to Conclude Romney Won't Run
The former GOP nominee lacks the staff, but not the drive, for another run at the White House. 
By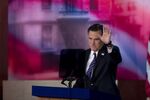 Mitt Romney sounds pretty sure that he's not running. He said it a few different ways to Bloomberg Politics' Mark Halperin and John Heilemann Monday on "With All Due Respect." He definitely didn't sound like a candidate when he told them the story about a Hispanic American masseuse from the Ritz-Carlton who thought he had the legs of a dancer.
Still, some doubters, hoping just to stir the political pot or line up behind a Romney comeback, remain. For them, we direct attention to other clues that Romney won't take a third crack at becoming president.
Consider this: Many of his former top staffers aren't waiting for the headquarters opening; they're already helping other potential candidates. 
Senator Marco Rubio already has Terry Sullivan, Romney's 2008 South Carolina director, on the payroll and Romney's former New Hampshire state director, Jim Merrill, is helping make introductions in the Granite State. Mike Biundo, deputy coalitions director for Romney in 2012, is working for Senator Rand Paul's political action committee. New Jersey Governor Chris Christie's TV ad man is Russ Schriefer, a former Romney adviser.
And this: The former Massachusetts governor is moving to Utah, a decidedly irrelevant state in national elections. In 2012, Romney was dogged by questions about where he called home: New Hampshire? Massachusetts? California? His answer to that question in 2016 puts him squarely in the red zone of the presidential map, nowhere near the real action. 
And this: As the 2014 elections unfold, he does seem interested in playing the role of kingmaker, and hasn't been shy about picking favorites in GOP primaries. What that tells is the decidedly cautious presidential candidate of 2012 is now willing to risk infuriating a big chunk of the base by lining up on one side of the party's civil war.
He endorsed Scott Brown's Senate campaign at the New Hampshire farm where he launched his presidential campaign in 2011. In a brutal Idaho primary that pitted the Republican establishment against the tea party, Romney starred in a TV spot for incumbent U.S. Representative Mike Simpson. He endorsed Iowa's Republican Senate nominee Joni Ernst during her crowded primary. 
All of this, of course, doesn't mean that Romney can't have some fun with the speculators as he goes into full I-told-you-so mode with a scathing Wall Street Journal editorial on President Obama's handling of Russia's incursion into Ukraine after having been mocked for calling Russia a top geopolitical foe in 2012.
"For too long we haven't had a figure like him in the party, and we've snatched defeat from the jaws of victory by nominating poor candidates that can't win general elections," former campaign staff Ryan Williams said, pointing to Republicans' failure to win the Senate majority in recent election cycles.
Williams said current events have vindicated Romney's 2012 campaign. He also credited director Greg Whiteley's "Mitt" documentary with helping soften Romney's image. Acknowledging his own bias, Williams said Romney would be the party's best candidate in 2016.
"I'm crossing my fingers," Williams said. "But I'm not holding my breath."