The Ever-Shrinking Part of America Where Barack Obama Can Actually Campaign
Where can the president still campaign for Democrats? A small handful of states.
By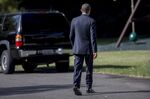 Jonathan Martin writes about the humiliating "benching" of President Obama, and the simple fact that no Democrat in a competitive Senate race wants him to campaign in his (or her) state. This has been true for a while, as I wrote in July. Yet it's gotten improbably even more pathetic for the commander-in-chief, first black president, muse of Will.i.am videos.
Example: In Colorado, where Senator Mark Udall sort of kicked off the panic (back in February he mumbled when asked by CNN if he wanted Obama in his state), the senator used one of his early debates to insist that "the White House, when they look down the front lawn, the last person they want to see coming is me." It was barely defensible – the White House really doesn't appreciate the work Udall and Oregon Sen. Ron Wyden do on NSA reform – and Udall walked it back in a debate last night, explaining that he differed with both George W. Bush and Barack Obama when they were wrong.
There's more! In Iowa's major televised debate, Representative Bruce Braley had a clear shot at state Senator Joni Ernst when he described what she'd said at a secret (but recorded, and leaked) donor meeting organized by the Koch network. When Ernst pushed back, Braley pivoted to a diss of the president. "I'm not going to owe President Obama anything on Election Day," he said. "You're going to owe the Koch brothers everything." If Obama had previously thought about stumping in Iowa, Braley had just made that logically impossible.
Martin and I came to some of the same conclusions while talking to different people. One: There's really nothing preventing the GOP from tying a Democrat to Barack Obama, just as there was nothing preventing the Democrats of 2006 from tying Republicans to George W. Bush. It doesn't matter if the president personally skips town. Millions can be poured into ads reminding voters that Local Democrat voted "with Obama" 96 percent or 97 percent or 99 percent of the time. As North Carolina Representative Renee Ellmers proved this week, you can even link a Democrat who has never held office to Obama by – wait for it – putting his name next to Obama's in a sentence.
Maryland
After eight years working under Governor Martin O'Malley, Lieutenant Governor Anthony Brown has a clear shot of becoming the state's first African-American governor -- and only the third elected African-American governor ever. (The others: Virginia's Doug Wilder and Massachusetts's Deval Patrick. Seriously, that's it.) Brown's being challenged by Larry Hogan, a businessman who had a minor job in the one-term administration of Republican Governor Bob Ehrlich. It should be an easy race; the problem is that Brown is treating it as such. That's starting to make Democrats wipe globs of sweat from their brows, leading by only 9 points in the new Washington Post poll. According to that poll, only 12 percent of voters say they've been contacted by the Brown campaign, shockingly low when compared to races in tougher states.
Enter Obama. He can head to Baltimore or Montgomery County in the time it takes to order a pizza; he can expect, back home, chin-stroking analyses of what it means for the first black president to give a hand to a could-be star like Brown. He remains marginally popular in Maryland; he's phenomenally popular with black voters who have not really engaged with the race.
Hawaii 
The Obama family had known Governor Neil Abercrombie for years. Abercrombie went to war with the "birthers" when he hardly needed to.  The president cut a radio ad for him in this year's gubernatorial primary. It did not matter: Abercrombie was skunked by state Senator David Ige. There was some conservative crowing about this, but the president remains broadly popular in his birth state; he endorsed Senator Brian Schatz in his intra-party primary, and Schatz won. In 2010, Obama managed to defeat Abercrombie's opponent and half-term Representative Charles Djou with late ads. Why not do it again? (Djou is running for his old seat.)
Illinois, Washington, D.C.
Obama's already made his endorsements in his home state's gubernatorial race and his temporary residence's mayoral race. As Martin writes, it was in Illinois that Obama informed Democrats that his "policies are on the ballot" this year, something the party is not supposed to admit, even though it's completely true. In Washington, Obama's gotten brushback for backing Muriel Bowser, a councilwoman who primaried the incumbent mayor (who himself had primaried an early Obama endorser, Adrian Fenty, in 2010), but he can't hurt her.
Anywhere else where black votes matter
Former San Francisco Mayor Willie Brown says as much to Martin, and it's what I found from looking at George W. Bush's 2006 campaign run. He stumped in western Nebraska, where a Club for Growth-backed Republican looked to be risking a loss in a safe seat; he stumped in southwest and southeast Missouri, where Republicans needed a boost in the Senate race. The thinking, as then-Senator Jim Talent's campaign manager recalled, was that "if Bush comes into Springfield, and if our folks don't get excited about that, we were never gonna win anyway."'
So, if Representative Gary Peters looks to be flailing in Michigan, Obama could head to Wayne County. If Governor Dan Malloy were on the bubble in Connecticut, Obama could head to Bridgeport. The political science on previous presidential visits is fairly clear -- they always provide a boost to the base, even if it's not enough to close the race. 
Yet the overall picture is what it was in February, in July. The electorate that gets to decide this election is, disproportionately, located in areas that never supported Obama. The Republican wins of 2010 drew maps in traditional swing states that packed the most likely supporters of the president in the smallest possible number of congressional districts.
There aren't many House seats that look like Virginia's old 5th, where Obama made an 11th hour stop in 2010 and helped drive black turnout, helping Representative Tom Perriello lose by only 4 points, when he might otherwise have been blown out. There's going to be no reversing this narrative: Hillary Clinton, Elizabeth Warren, and less-famous Democrats can stump for anyone in their party, while the president's zone of influence is drawn back to a few demographically favorable zones and some places where he's maintained personal ties.