The Ever-Shrinking Part of America Where Barack Obama Can Actually Campaign
Where can the president still campaign for Democrats? A small handful of states.
By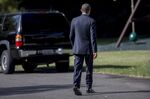 Jonathan Martin writes about the humiliating "benching" of President Obama, and the simple fact that no Democrat in a competitive Senate race wants him to campaign in his (or her) state. This has been true for a while, as I wrote in July. Yet it's gotten improbably even more pathetic for the commander-in-chief, first black president, muse of Will.i.am videos.