Risky Train Derailments Come as Regulators Push for New Rules
By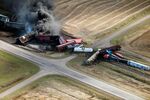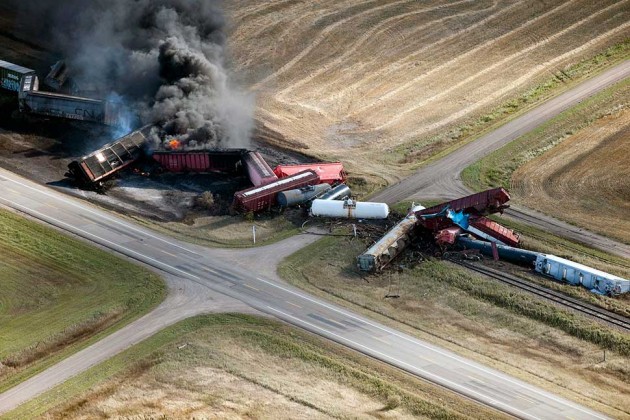 Two train derailments this week—one in the U.S., one in Canada—could have been a lot worse.
A train carrying petroleum products and toxic materials crashed in rural Saskatchewan on Tuesday. No one was hurt, though the crash unleashed a chemical, toxic mess as tank cars filled with hydrochloric acid and caustic soda exploded and burned for hours. Twenty-six of the train's 100 cars derailed. Two of them carried petroleum distillates used in fuels and that can contain trace amounts of benzene. By last night, firefighters mostly had the fire put out.
On Sunday, meanwhile, a Union Pacific freight train crashed into a tractor-trailer that was stuck trying to cross the tracks. The train was not, thankfully, one of the multitude that go by every day carrying oil, as the town's mayor pointed out to the local paper: "We're lucky that wasn't one of our oil trains that we get 10 times a day. If it had been an oil train, we would have had a fire, and then we would have had fatalities."
Louisiana is one of many states that have become busy corridors for oil trains over the past three years. In May, the U.S. Department of Transportation ordered railroads to start giving state emergency officials details about their shipments of crude. Some of those states decided to make that data available to the public; others did not, including Louisiana, Arkansas, Kansas, and Pennsylvania.
In August, the railroad industry asked the DOT to withdraw the emergency order, since they already provide information about hazardous materials and the rule forces them to disclose confidential business information. The Federal Railroad Administration rejected the request this month, and on Oct. 3 the Pennsylvania office of open records ordered the state's emergency response agency to release the oil train data in response to media requests for the information.
Canadian regulators have given the industry three years to upgrade the tank cars that haul oil. In the U.S., the DOT has proposed a deadline of two years. Railroads and energy companies argue that they need at least six years to phase out the older tank cars. The Railway Supply Institute, which represents companies that build tank cars and shippers that lease them, has said the rules would force about 90,000 tank cars to be withdrawn from service by 2017 and push millions of barrels of oil onto some 20,000 trucks on the highway. Not exactly safer.
Before it's here, it's on the Bloomberg Terminal.
LEARN MORE