Opinion Battle on H.K. Protest Plays Out Across Firewall
Lulu Yilun Chen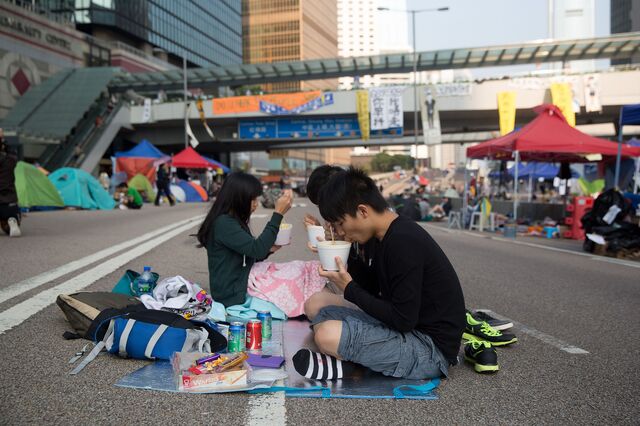 As news of protests in Hong Kong spreads around the world, narratives about the pro-democracy push are tilting in opposite directions depending on which side of China's digital barrier social media users find themselves.
On Facebook Inc., beyond the government's reach, student-led Occupy Central has been crowned with the romantic notion of being an "umbrella movement" fighting for democracy. To those behind the so-called Great Firewall that censors China's Internet, social media posts highlight Hong Kong's hostility toward mainland tourists, and the city's sense of dislocation following its loss of economic superiority over the mainland.
That is deepening the divide with Hong Kong, where protesters are getting little sympathy from mainlanders angry at being blamed for problems in the territory and previous activist campaigns that likened them to vermin and locusts. Framing the movement as an extension of previous anti-Chinese campaigns though, helps a government keen to avoid similar democracy demands being made on the mainland, said Doug Young, Shanghai-based author of "The Party Line: How the Media Dictates Public Opinion in Modern China."
"Rather than wait and let the message get controlled by the Hong Kong people or international media, the government is stepping in to control the message from the beginning," said Young. "If both Hong Kong and mainlanders start to say Hong Kong has a good point, we want democracy too, then the leaders in Beijing would be much more alarmed."
Deleted Posts
While some photos and information from protesters have slipped past China's censorship system, posts that voice sympathy and support for the Hong Kong movement are much more likely to be deleted, according to Fu King-wa, the lead developer of social media analysis website Weiboscope.
Out of every 10,000 posts on Weibo.com, China's equivalent of Twitter, 152 were removed on Sept. 28. That is more than double the rate for posts on June 4, the 25th anniversary of the crackdown on the Tiananmen student movement.
"With the limited amount of information that people in China are getting, many are actually irritated by this movement," said Wang Yi, a 26-year-old student from Beijing studying law. "With Occupy Central following the previous rifts, what many people see is that this is just an anti-China movement."
Commentaries that haven't been deleted from Tencent Holdings Ltd.'s WeChat, China's most popular instant messaging platform, highlight anti-Hong Kong sentiment in China.
Giant Locust
A post on WeChat, titled "Hong Kong, what exactly does the country owe you," describes Hong Kongers as "spoiled" children who "need to be taught a lesson." The writer emphasizes that China has granted Hong Kong low taxes, acted as a food basket, and supported the region's economy through tourism. Hong Kong has repaid the favor by calling Chinese tourists locusts and ridiculing mainlanders' behavior as being uncivilized, it said.
In February 2012, Apple Daily ran a crowd-funded advertisement, featuring a giant locust perching over the Hong Kong skyline in reference to mainland mothers crossing the border to give birth and compete for health-care resources.
A more recent uproar occurred after a couple from the mainland allowed their toddler to urinate on a busy sidewalk in Kowloon, prompting verbal attacks from locals.
Foreign Forces
The antagonism deepened with the state-run People's Daily linking the protesters to "foreign anti-China forces" and alleged interventions by the U.S. and Britain. China's foreign minister also warned against interference during a visit to Washington.
"The discussions in China have predominantly focused on issues of nationalism and separatism, but little about democracy and universal suffrage," said Harry Lin, a 25-year-old student in Beijing, who uses a virtual private network to circumvent China's Internet censors. "It seems that commentaries here are quick to simplify everything to the diminishing economic superiority Hong Kong has over to the mainland."
By focusing on those issues, many people in mainland China seem to think that the protests are directed at them rather than seeing the city's pursuit for universal suffrage, said Young.
"My friends all hear from CCTV news and mainland media," said Mengyao Wu, a 25-year-old from Jiangxi province and student at Hong Kong Baptist University. "They said that some people want to break the mainland and Hong Kong government relationship, that someone was planted and controlled by some political power to do this."
Housing Costs
Parallel to Hong Kong people's demand for democracy are tensions brought by rising living costs, unaffordable housing partly pushed up by mainland buyers, and the city' diminishing status as a gateway to China.
Hong Kong, which used to be China's largest port, has now been surpassed by Shanghai and Shenzhen while the mainland has been blamed for deteriorating air quality in the city.
The student-led Occupy Central protest began Sept. 26 in response to China's moves to tighten control over who runs Hong Kong, including vetting candidates for the 2017 vote on a successor to Chief Executive Leung Chun-ying.
Hong Kong citizens have never had the power to choose their top leader, neither as part of China since 1997 nor as an outpost of the British Empire for 156 years before that.
On the other side of the Firewall, Fu cautions against romanticizing the movement.
"International media has been quick to associate this movement with symbolic incidents like those in the Middle East, naming it an Umbrella revolution," said Fu. "Few locals are calling it a revolution."
Canny Lo, a spokeswoman for Tencent in Shenzhen, didn't respond to an e-mail query on how the company is censoring posts about protests in Hong Kong. Liu Qi, a spokesman for Weibo in Beijing, didn't respond to an e-mail query.
Before it's here, it's on the Bloomberg Terminal.
LEARN MORE