NFL Owners Approve Record $1.4 Billion Bills Sale to Pegulas
Eben Novy-Williams and Mason Levinson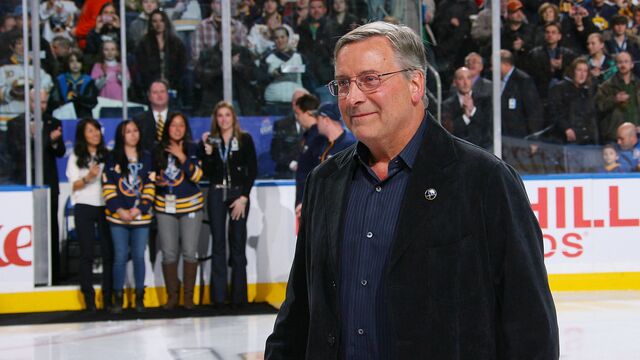 National Football League owners approved the record $1.4 billion sale of the Buffalo Bills to Terry Pegula, the team said on its website.
Owners at the league's annual fall meetings in Manhattan today voted unanimously to approve Pegula and his wife, Kim, who also own hockey's Buffalo Sabres. The $1.4 billion price is a record for an NFL franchise, eclipsing the $1.1 billion that Stephen Ross paid for the Miami Dolphins and their stadium in 2009.
The Pegulas have said they will keep the franchise in New York's second most-populous city. The Bills (3-2) haven't finished with a winning record in 10 seasons, and haven't made the playoffs since 1999.
"There was a vote, it took about 15 seconds and Kim and Terry came in and joined the meeting," Russ Brandon, the team's chief executive, said today in New York.
The Pegulas reached an agreement to purchase the team last month, beating out other bidders that included billionaire Donald Trump and a group that had rock musician Jon Bon Jovi as a member. Morgan Stanley handled the sale.
The NFL finance committee unanimously approved the sale on Sept. 17, clearing the way for today's vote. The Pegulas needed three-quarters majority approval from the league's 32 owners, including the trust overseeing late owner Ralph Wilson's estate. Wilson, who bought the team for $25,000 in 1959, died in March.
Brandon said there was no discussion today about a new stadium.
"We're playing the third game in our renovated stadium, so that's the focus right now, but knowing that down the road, we're going to have to take a look at the public and private sector and what makes sense for our community," he said.
Pegula in May 2010 sold his natural-gas firm, East Resources Inc., to Royal Dutch Shell Plc for $4.9 billion.
Before it's here, it's on the Bloomberg Terminal.
LEARN MORE