Najib's Budget May Leave Companies Squeezed as Costs Rise
Chong Pooi Koon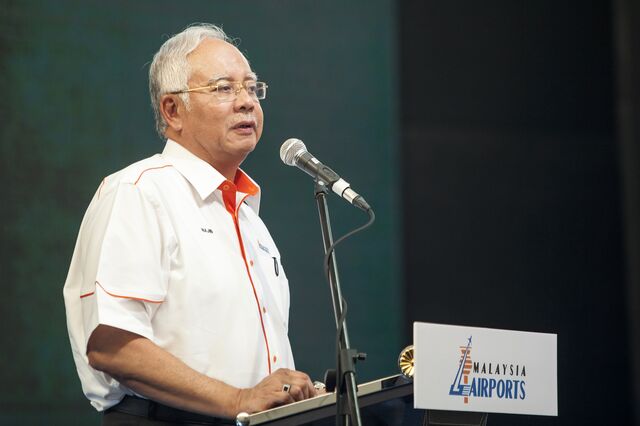 At Universal NutriBeverage Sdn., two years of rising costs have Director Terence Kuah wishing for good news in Malaysia's budget tomorrow. He may get little relief as Prime Minister Najib Razak prepares for a new consumption tax.
"Everything has been squeezed," said co-owner Kuah, whose company produces kiwi and lychee-flavored cordials. Universal's operating costs increased as much as 10 percent last year and in 2012 as Najib raised fuel prices, scrapped sugar subsidies and introduced a minimum wage. "The margin has depleted very badly. How are we going to make money?"
Malaysian companies like Kuah's will probably bear the brunt of Najib's efforts to curb the budget deficit, caught between rising production costs and the threat of weakening demand as consumers grapple with faster inflation. While the prime minister will probably roll out aid for individuals to cope with a new goods and services tax next year, support for businesses will be less direct and focus more on encouraging investment and boosting productivity, economists say.
"You can see a number of SMEs are being closed down, stopped operations," said Manokaran Mottain, chief economist at Alliance Bank Malaysia Bhd. in Kuala Lumpur, referring to small and medium enterprises. "That's not good for the manufacturing sector. We are still depending on them, most of our activities are still SME-based."
Domestic Demand
Najib's challenge is pursuing the fiscal tightening he says the country needs to avoid credit-rating downgrades, without endangering the capital expenditure and purchasing power that help sustain growth. Exports, which helped the economy expand more than 6 percent in the first half of 2014, have cooled in recent months, increasing the importance of domestic demand.
With the opposition coalition faltering and elections four years away, Citigroup Inc. says the prime minister will "seize this narrow window of opportunity" to press ahead with fiscal tightening.
Malaysia narrowed the budget shortfall to 3.9 percent of gross domestic product in 2013, and Najib has said he wants to further trim the gap to 3.5 percent this year and 3 percent in 2015, heading toward a balanced budget by 2020. The current levels of subsidies are "unsustainable," he said in a statement today.
"We must pass on a stronger economy with less debt" to the next generation, Najib said.
Part of that effort is the GST of 6 percent, which the government estimates will generate revenue of 2.5 billion ringgit ($764 million) in 2015 and 8 billion ringgit the following year.
More Exemptions
Najib may announce the exemption of more goods from the GST tomorrow, adding to last year's list that included basic food items, piped water supply and transportation services, said Citigroup economist Kit Wei Zheng.
"While an expanded list of such items may help to blunt the inflation impact of GST, a major concern amongst investors is that it may also dilute the positive fiscal impact of the tax," Kit said.
Najib's administration has said it will hand out more cash to lower-income households and give support to businesses to prepare them for the tax that will start April 1.
"The government will provide additional assistance to households, particularly the low and middle-income segments to help tide them through this period of rising costs and ahead of GST implementation," said Julia Goh, an economist at CIMB Group Holdings Bhd. in Kuala Lumpur. "For the SMEs, the government is likely to provide assistance to help them move up the value chain and enhance productivity, which effectively also helps them reduce cost."
Old Practices
Malaysia's long-term strategy to boost competitiveness is removing some of the old business practices such as reliance on cheap labor, and moving toward industries that add more value to the economy, said Rahul Bajoria, a Singapore-based economist at Barclays Plc.
"It's a trade-off," Bajoria said. "This strategy will pay off because it's about boosting productivity and not really relying on damping cost pressures through artificial measures in order to sustain certain industries."
Rising operating costs may force some businesses to shut, said Teh Kee Sin, president of the SME Association of Malaysia, a group with more than 5,000 member companies.
Some Resolution
"The cost of running business is getting higher and higher," said Teh, whose electronic components factory in the state of Johor has struggled to pass on higher costs to clients. "This has weakened the competitiveness of SMEs. We hope the government will provide some resolution to cushion our burden."
At Universal NutriBeverage, Kuah is paying market prices for sugar for the first time since it began in 1971, while it costs more to run his three delivery trucks and the diesel-powered boiler to melt the sweetener. Kuah is also a representative of the SME Association of Malaysia.
Companies aren't the only ones complaining.
"The government keeps saying they are looking into the welfare of the people and want to reduce cost of living," Bhopalan Shanmugam, a 54-year-old scrap metal dealer in Selangor state, said as he refueled his car the day fuel prices were raised this month, adding to previous increases. "How do you expect the cost of doing business and other services and goods not to go up? This is ridiculous."
Before it's here, it's on the Bloomberg Terminal.
LEARN MORE