More Friendly Fire for Obama
Former President Jimmy Carter becomes the latest to criticize the president's foreign policy.
By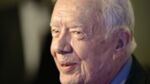 Et tu, Jimmy?
Former President Jimmy Carter is the second ex-president in a week to criticize President Barack Obama's foreign policy, in the midst of a pile-on by the president's own former advisers including two ex-defense secretaries.
Obama "waited too long" to move against the Islamic State terror group, Carter said in an interview with the Fort Worth Star-Telegram. A fellow Democrat who's long been critical of Obama's drone strikes on American terror targets overseas, Carter also said the administration's Mideast policy is unclear because "it changes from time to time."
A week ago, former President George W. Bush insisted in an interview with Fox News that he wasn't "going to second-guess our president" — and then said he'd have left 10,000-15,000 residual troops in Iraq. Obama withdrew forces at the end of 2011 after the Iraqi government refused to give U.S. troops immunity from prosecution. 

While Bush seemed to go back on his promise, his remarks were the lightest touch among the spate of foreign policy critics who have emerged lately. Leon Panetta, Obama's former defense secretary and Central Intelligence Agency director and a Clinton family loyalist, is out this week promoting a new memoir in which he presents Obama's approach to Iraq as aloof and distracted by domestic politics. He follows Robert Gates, Panetta's predecessor at the Pentagon, who earlier this year questioned Obama's commitment to his own strategies in Afghanistan. And former ambassador to Iraq, Christopher Hill, in a new memoir, describes struggles for control between the National Security Council and the State Department.
Republican pollster Glen Bolger said the criticism could help Republicans in midterms. "It just adds to the sense of concerns that voters have about the direction of the country, and the president's focus on these issues has not been that sharp."
The U.S. economy remains the top issue for voters, after dominating in 2008, 2010 and 2012. "But instead of being twice as important as everything else, it's dropped and other issues have nearly caught up to it," Bolger said. "Issues of terrorism and national security, depending on the state and the district, are only a few points behind the economy."
Jerry Hendrix, former chief naval historian and director of the defense strategies and assessments program at the Center for a New American Security, said it is "not normal to have this type of criticism while the president is still sitting." It may exacerbate modern presidents' practice of keeping secretaries of defense and state at arm's length, he said. "There's already an ongoing concern that more and more power is being consolidated in the NSC and the West Wing to the exclusion of the Cabinet departments."