Mercedes Takes C400 to Another Level With Inner Coddling
undefined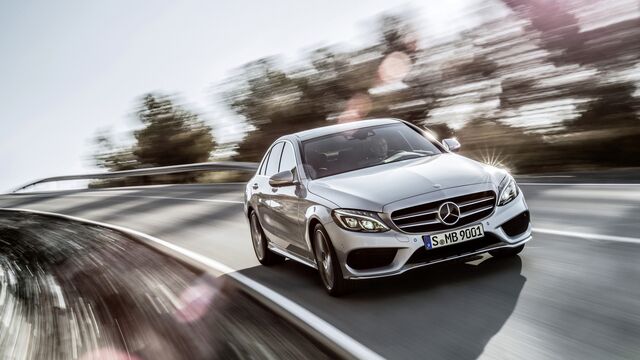 Well, hello, elegance. Nice to see you, sophistication. And, look! Restraint has entered the building, too.
And they've all found a home under a common roof: That of the 2015 Mercedes-Benz C400 sedan.
The C-Class used to be Mercedes's entry-level sedan, and over the years it became stiffer and sportier and generally more churlish. The Daimler AG unit was of the mind that younger buyers wanted something closer to a BMW 3 Series than a cushy Benz.
But if you want to combat Munich-based Bayerische Motoren Werke AG on its own turf -- windy back roads -- it means giving up some measure of comfort and pliability.
The last generation C-Class, especially the C350 Sport and C63 AMG, could rock you like a hurricane on a back road. But, you know, how wearisome. Because rocking you also means beating you up, as sports suspensions and oversized wheels are often too firm for the majority of buyers, who forgo the path less taken for the highway much quicker.
The new C-Class is available in two all-wheel-drive models, the C300 and C400. The former has a 241-horsepower turbo four-cylinder and the latter a 329-horsepower turbo V-6. Pricing starts at $40,400 for the C300 and $48,590 for the C400, not including destination charges -- or the many options pre-loaded on most vehicles on the sales lot.
The fourth-generation car has taken a U-turn away from sports-car harshness and back toward Mercedes-worthy coddling. It may be several times smaller (and less expensive) than the knightly S-Class sedan, that chariot of choice among executives and despots, but the C-Class clearly comes from the same gene pool.
Sweeping Silhouette
The exterior is refined and restrained, a simple sweeping silhouette with gently molded sides. The nose is ample and the grille somewhat oversized, but it doesn't feel overworked or too grandiose. You won't find a bunch of air intakes or vents on the body, and you can opt for the traditional standing Mercedes star on the hood.
It's tasteful without being blandly inoffensive, interesting without being gimmicky. That's a good trick. Park one next to an S-Class and even a toddler could identify them as being akin to each other. This C-Class knows what it wants to be when it grows up.
If the C300 has gone upscale, that's because Stuttgart, Germany-based Daimler has a new model to offer first-time Mercedes owners, the CLA sedan. The CLA is front-wheel drive with a starting price of about $30,000. I like it a lot, but the design is gussied up in a way the C-Class no longer needs to be.
More Power
The C300 has a 2-liter, turbo inline four-cylinder that generates more torque and power than the V-6 it replaces. A sweet engine in almost all respects, it's ideal for punching through traffic in Manhattan's Midtown, though it sounds a bit coarse when pushed hard up a hill.
The C400 gets a 3-liter, twin-turbo V-6 with 329 horsepower and 354 pound-feet of torque, mated to a seven-speed automatic transmission. It doesn't have gobs of power, nor is it particularly savage. Rather, it's one of those powerplants that makes life easy.
That goes for the total experience of the C400. It rides nice, drives nice and feels nice. Not crazy fun, not boring. It'll get you places in a happy, easy manner, and you won't have to think about it a lot.
Sophisticated Interior
What you will find yourself mulling over is the interior. That's where the sophistication and elegance really kick in. There's not a whiff of entry-level anything, really, if you pick a few key options.
The car is some 4 inches (10 centimeters) longer and 1 1/2 inches wider than the previous model. That gives just enough extra air in the cabin to swing your elbows and kick out your legs, even in the back.
The interior is lovely. All of materials are cut into straight and tidy lines and match up nicely. The stitching is good and it comes together with an eye to taste, not flash.
What most impressed me was the use of space in the front. There's always a war in modern cars between places to rest your arms and store your stuff and all the necessary controls for the transmission, radio, navigation and car setup.
Mercedes has been using a mechanical dial on the divider between driver and passenger to control the navigation system and radio. They've added a touchpad on top of that dial, which allows for swipes and two-finger scrolling, akin to an iPad. Its use isn't utterly obvious, but it's no harder to learn than any average piece of new technology.
Redundant Controls
There's also a series of redundant hard buttons on the dashboard, and you can use these controls in any conjunction. After a few minutes you'll find it's easy to change your satellite radio or input a destination. My only real complaint is the lack of an obvious place to place your mobile phone.
You can option the C400 all the way to more than $68,000. How could you not want the Mercedes star on the grille to be illuminated for $480? Nineteen-inch six-spoke alloy wheels may call to your shopper's soul for $1,820, and the same perfume atomizer you can find in the S-Class runs a mere $110. My test model, which had everything from a trick air suspension to the $2,800 Driver Assistance Package, was $64,200.
Entry level? Not at all. That optional package includes a fancy cruise control that keeps you inside your lanes and even lets you take your hand off the wheel for a few seconds at a time.
The C-Class has moved on up, and it's feeling just fine.
The 2015 Mercedes-Benz C400 at a Glance
Engine: 3-liter twin-turbo V-6 with 329 horsepower and 354 pound-feet of torque.
Transmission: Seven-speed automatic.
Speed: 0 to 60 mph in 6.5 seconds.
Gas mileage per gallon: 21 city, 29 highway.
Price as tested: $64,200.
Best feature: Clean and comfortable interior.
Worst feature: A dab more power would be appreciated.
(Jason H. Harper writes about autos for Bloomberg News. The opinions expressed are his own.)
Before it's here, it's on the Bloomberg Terminal.
LEARN MORE