Greg Orman Is the Luckiest Man Running for Senate
He says Kansans should have a senator in the majority — regardless of whether he's a Democratic or Republican.
By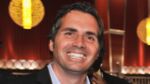 Through a combination of moxie and political good fortune (or misfortune for the other guy), Kansas businessman Greg Orman finds himself in the middle of one of the most competitive Senate elections this cycle – and the polls show he's winning.
First, a Tea Party primary challenge revealed the political weaknesses of three-term Senator Pat Roberts, Orman's Republican opponent. Then the Democrat in the race quit, boosting the political neophyte from long-shot independent candidate to Roberts' principal challenger.
The stakes are even higher than just Kansas. If Orman wins and the Senate winds up split, he could choose to caucus with either party, possibly tipping control of the chamber. So who is this potential political kingmaker? Here are five things to know about him:
1. He's never won an election
Orman has never held public office. He grew up in Mankato, Minn., with his mother, a registered nurse, and spent summers in Stanley, Kansas, working at his father's furniture store. His mother was a Democrat, and his father a Republican. He attended Princeton University. 
He briefly ran for Senate in 2007 after moving to Kansas from Orlando. Shortly after that, he founded the Common Sense Coalition, a centrist group that supports moderate candidates from both parties. He's married.
2. He's voted for Obama and Romney
Orman says he voted for President Barack Obama in 2008 and Mitt Romney in 2012. He's donated to the Democratic Executive Committee of Florida and the Republican National Committee. And he won't say whether he would have voted for the Dodd-Frank financial reform bill or cap-and-trade climate plan, or whether he'd raise the gas tax. 
On immigration, he's criticized Roberts for the growth of the undocumented population and says he wants to increase border security. But he also backs a path to citizenship for the 11 million undocumented immigrants already in the U.S. He would have opposed Obamacare but now doesn't want to repeal it. He's open to background checks for gun purchasers, supports access to abortion services, and says the government should not prohibit gay marriage.
Orman argues that he's not avoiding taking positions on tough issues but is open to solutions – no matter which party comes up with them.
3. He is a very successful businessman
Once a consultant, Orman founded a company to install and design energy-efficient lighting. Four years later, he sold the majority of that firm to Kansas City Power & Light. He later started a private equity firm and is now listed as a director, board member, manager, or managing member at 15 companies. 
Today, Orman is worth between $21.5 million and $86 million, according to his financial disclosure reports.
4. But he's not self-funding his campaign
His wealth would make him the sixth richest senator, according to the Center for Responsive Politics. But bucking a trend of wealthy candidates, he's not spending his fortune on politics – he's put less than $50,000 of his own money into his campaign.
On the trail, Orman sells himself on his business credentials, telling voters that he knows how to create jobs and would bring business expertise to Washington.
5. Attacks on his business dealings haven't hurt him — yet
Over the past few weeks, Republicans have dropped reams of opposition research on Orman's business dealings, as part of their effort to undercut his business credentials and raise questions about his ethics. They're trying to make an issue out of his personal and business relationship with Rajat Gupta, a former Goldman Sachs board member who was sent to prison for securities fraud.
Another of Orman's companies, Combat Brands, is facing a $30 million trademark infringement lawsuit from Everlast, a boxing equipment company. And a third venture, Ganix Biotechnologies, defaulted on a $725,000 bank loan, after an attempt to build an organic shrimp farm in North Las Vegas collapsed. 
6. He is emphatically playing both sides right now
Orman has carefully avoided saying which party he would caucus with if he wins the seat, saying he would caucus with whichever party has majority control because "it's in the best interests of the voters of Kansas that they have a Senator in the majority."
He has a point. Being in the majority would give him a better shot at good committee assignments, among other benefits. A competition for his allegiances could be even better, though, if it forces party leaders to outbid each other.
This week, he told NBC News that he could "absolutely" switch his allegiances later. 
"If four or five months goes by, and it's clear they're engaged in the same old partisan politics, we'll be able to change our allegiances and work with the other side," he said. "And I think that's a really strong and important tool, to hold the Senate accountable for actually getting something done."
And it doesn't hurt that with less than a month to go before the election, not making a call allows Orman to avoid alienating voters on either side.