Jokowi's Indonesia Dream Team at Risk as Pressure Builds
Herdaru Purnomo and Neil Chatterjee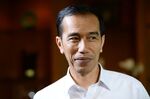 Indonesian President-elect Joko Widodo's plan to install a team of experts and professionals at the top of the government of Southeast Asia's biggest economy is facing the increasing threat of political pressure.
Widodo, known as Jokowi, pledged during his election campaign to forgo political horse trading and pick "only the best" for his cabinet. That promise is being undermined by messages telegraphed by his allies, including his own party head, former president Megawati Soekarnoputri.
"It is Megawati's prerogative to decide candidates to be conveyed to Jokowi for the cabinet," said Eva Kusuma Sundari, a PDI-P lawmaker and election campaign spokeswoman for Jokowi. "Indeed Megawati has prepared special candidates from PDI-P," she said, referring to them as "professional politicians."
Any conflict between Jokowi and his party leadership on the cabinet would add to deepening concern the former furniture businessman will struggle to deliver on his campaign manifesto to cut bureaucracy and corruption, attract investment and build infrastructure. His Indonesian Democratic Party of Struggle, or PDI-P, has so far failed to find sufficient allies in parliament to establish a majority, leading foreign funds to pull almost $1 billion from Indonesian stocks in the past month.
Less than two weeks before he takes office on Oct. 20, Jokowi has yet to unveil his cabinet or lay out how he will reorganize Indonesia's government ministries, a bureaucratic shake-up he'd said he would announce in mid-September. He's grappling with a series of victories by the opposition in parliament, which has taken the speaker posts in both lower and upper houses.
'School Kid'
The rupiah fell 0.3 percent and stocks dropped 1.5 percent yesterday, after opponents of Jokowi won the post of speaker in the upper house of parliament.
"Joko Widodo is a 'boarding school kid' in the PDI-P, he is not a man of influence," said Emrus Sihombing, a political communications lecturer at Universitas Pelita Harapan in Tangerang, near Jakarta. "If the cabinet is a result of transactional politics," it would tend to be more pragmatic and less firm, and that will be problematic for Jokowi, he said.
Megawati's proposals for Jokowi's cabinet include her daughter Puan Maharani; Tjahjo Kumolo, the secretary-general of the PDI-P; and Andi Widjajanto, a deputy head of Jokowi's transition team, said a person familiar with the process who asked not to be named because the talks were private. Other nominees from within his coalition include Rusdi Kirana, the founder of Lion Air and now in the National Awakening Party or PKB, and Ferry Mursyidan Baldan, an executive from the NasDem Party, the person said.
Offering Posts
Jokowi's lack of a majority in parliament also increases pressure for him to offer posts to opposition chiefs to prise them from a coalition that controls the legislature. The lower house formulates laws, while the upper house has the ability to impeach the president.
Candidates from the United Development Party, or PPP, an Islamic party that was part of losing presidential candidate Prabowo Subianto's coalition, would secure seats in cabinet for joining his camp, Jokowi said yesterday. The president-elect has declined to say who is advising him on names for the cabinet, saying only that he has a "head hunter."
"My cabinet is my prerogative," he told reporters at least twice last month.
Qualified Experts
Megawati, the daughter of Indonesia's first independent leader Sukarno, and president herself from 2001 to 2004, hasn't yet responded to an interview request from Bloomberg News about the cabinet. Megawati, 67, is giving names from the PDI-P party to Jokowi for the cabinet, yet isn't putting pressure on him, said Hasto Kristiyanto, a member of Jokowi's transition team.
Putting capable Indonesian politicians into some posts may not be a problem if key ministries such as energy and mining are run by qualified experts, said Paul Rowland, a Jakarta-based political analyst.
"Megawati cares about where Puan is going to go, she cares about the family having input," said Rowland, the former country director for advocacy group the National Democratic Institute. "There will be constraints."
Jokowi will appoint technocrats to run about half the departments in his government, including finance, energy and agriculture, he said last month. Sixteen of the 34 cabinet positions will go to politicians, he said.
Public Recommendations
"Mr Jokowi is an ambitious politician seeking to reform Indonesia's politics and institutions," said Nicholas Spiro, managing director at Spiro Sovereign Strategy in London. "He poses a challenge to the establishment and needs to be -- and, more importantly, be seen as -- his own man. His 'political outsider' status is his biggest strength, but also potentially his biggest weakness."
Jokowi is considering 40 professionals, as well as politicians and public recommendations for the cabinet, a member of his transition team said, asking not to be identified.
These include Ari Soemarno, a former head of state energy company PT Pertamina and brother of Jokowi's transition team head Rini Soemarno. Others are Dahlan Iskan, the current minister for state-owned enterprises and former chief executive of publisher Jawa Pos Group, Emirsyah Satar, the chief executive of state carrier PT Garuda Indonesia and Ignasius Jonan, the head of state railway company PT Kereta Api, the person said.
"The cabinet appointments are very fluid, they can change at the 11th hour," said Fauzi Ichsan, a finance adviser to Jokowi's election campaign and an economist at Standard Chartered Plc in Jakarta, who the transition team person said was also on the list.
The coalition is too absorbed in political developments to decide on the cabinet now, he said.
"Quite likely it's going to be postponed" beyond the Oct. 20 inauguration date, Ichsan said, adding ideally it would still happen before the end of October.
(A previous version of this story was corrected to fix the location of the university in the seventh paragraph.)
Before it's here, it's on the Bloomberg Terminal.
LEARN MORE