Jennifer Lawrence Calls for Law Targeting Websites that Post Hacked Photos
The "Hunger Games" actress says those who looked at her naked photos should "cower with shame."
By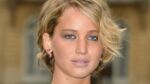 To hear Jennifer Lawrence tell it, there ought to be a law. In her first interview since naked photos of the actress were stolen from Apple's cloud storage service and posted to the Internet, Lawrence told Vanity Fair that lawmakers needed to target not just hackers, but the websites who enable them. 
"It is not a scandal. It is a sex crime," Lawrence told the magazine. "It is a sexual violation. It's disgusting. The law needs to be changed, and we need to change. That's why these Web sites are responsible. Just the fact that somebody can be sexually exploited and violated, and the first thought that crosses somebody's mind is to make a profit from it. It's so beyond me. I just can't imagine being that detached from humanity. I can't imagine being that thoughtless and careless and so empty inside."
While 13 states have passed laws banning so-called "revenge porn," or the posting of naked photos or videos by an ex-partner without consent, as current law stands, only the person found to have stolen and posted Lawrence's photos can be charged with a crime. Lawrence made clear in the interview, however, that she believes more needs to be done to punish those who took part in the consumption of her images, including the viewing public. 
 "Anybody who looked at those pictures, you're perpetuating a sexual offense," Lawrence said. "You should cower with shame. Even people who I know and love say, 'Oh, yeah, I looked at the pictures.' I don't want to get mad, but at the same time I'm thinking, I didn't tell you that you could look at my naked body."