How to Turn Your Name Into a PAC, in One Lesson
Take the quiz: Is it an acronym for a political PAC or is it a parody?
By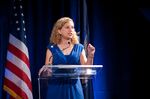 Edward-Isaac Dovere's blockbuster about the Democrats who are fed up with DNC Chairwoman Debbie Wasserman Schultz was chock-full of embarrassing moments and anecdotes. One of them split the difference between pathos and ego: Wasserman Schultz explaining why her PAC happened to mirror her initials. "It stands for Democrats Win Seats," she said. "And that's crucial. It stands for Democrats Win Seats."
Crucial! To the peanut gallery, this read like impossible hubris. But it's completely normal for members of Congress to create PACs, inflate their first names into capital letters, and cook up a nonsensical acronym that matches the letters. "Democrats win seats" isn't all that bad.
Last month, the FEC released a report of the "PACronyms" submitted by trade groups, politicians, and concerned citizens, and the tortured methods by which these people turned their identities into dollar buckets were oddly compelling.
Below, you can see 14 PAC names. Many are real, taken from the report. Some are fake, taken from the boundless imaginations of Bloomberg's Kate Hunter and myself. See how many you correctly identify, and check the answers below.
1. ERIC PAC: Every Republican is Crucial
2. KATE PAC: Keeping America Together for Everyone
3. JULIA PAC: Jobs Unite Labor and Industry In America
4. SWIN PAC: Strong Women Impacting the Nation
5. KRISTI PAC: Keeping Republican Ideas Strong, Timely and Inventive
6. BOB PAC: Building Our Base
7. CARTER PAC: Conservative And Republican Together Equals Results
8. GEOFF PAC: Growing Economic Opportunity and Fighting for Freedom
9. CANDICE PAC: Conservative American Network Delivering Increased Congressional Excellence
10. DAWG PAC: Democrats Against Waste in Government
11. TIM W Fund: Truth is, Markets Work
12. YOUNG PAC: Yesterday's Optimism Unto the Next Generation
13. CRAIG PAC: Creating and Reforming American Institutions for Growth
14. MARIO PAC: Maintaining All Republicans In Office
In case you've been scrolling too fast, I'll put a buffer between the questions and the answers. Here's a video for "Proclamation," a song by the underrated (and defunct) progressive rock group Gentle Giant.
Ready?
1. Former Representative Eric Cantor of Virginia
2. Fake
3. Representative Julia Brownley of California
4. Fake
5. Representative Kristi Noem of South Dakota
6. Representative Robert Gibbs of Ohio
7.  Representative John Carter of Texas
8. Fake
9.  Representative Candice Miller of Michigan
10. Representative John Barrow of Georgia
11. Representative Tim Walberg of Michigan
12. Representative Kevin Yoder of Kansas
13. Fake
14. Representative Mario Diaz-Balart of Florida