Bill Gross's Janus Fund Received $66.4 Million Deposits
Charles Stein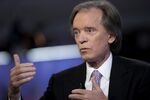 Bill Gross's Janus Global Unconstrained Bond Fund received $66.4 million in deposits in September, the month Gross announced he was leaving Pacific Investment Management Co. to join Janus Capital Group Inc.
The client cash brought assets at the fund, which Gross started managing this week, to $79.1 million, according to Chicago-based fund researcher Morningstar Inc.
Janus shares soared 43 percent on Sept. 26, the day Gross announced he would work for the Denver-based firm, on the expectation that he would attract a considerable amount of money to his new fund. William Katz, an analyst at Citigroup Inc., questioned how big a draw Gross would be.
"The market has already anticipated $25 billion to $50 billion in new assets at Janus," Katz wrote in an Oct. 3 report, "setting up for possible disappointment."
Janus declined 2.2 percent to $14.08 today at 12:01 p.m. in New York. The shares have fallen 11 percent since closing at a six-year high of $15.89 on Sept. 26.
Gross, who co-founded Pimco in 1971 and ran the world's largest bond mutual fund, left the firm after his deputies threatened to quit and management debated his ouster, according to people familiar with the matter. His departure prompted clients to review their investments with the firm and move money to competitors.
Pimco Redemptions
Gross's $201.6 billion Pimco Total Return Fund had a record $23.5 billion in redemptions in September, the Newport Beach, California-based firm has said. Two other large funds that Gross managed, the $18.3 billion Pimco Unconstrained Fund and the $20 billion Pimco Low Duration Fund, also experienced withdrawals, according to Morningstar estimates.
Industrywide, taxable bond funds in the U.S. saw redemptions of $21 billion in the week ended Oct. 1, the highest in records dating to the start of 2007, the Investment Company Institute said today in an e-mailed statement. In the previous week, investors pulled $35 million from the same group of funds, according to the Washington-based trade group.
Gross said he expected to have $100 million to manage when he started trading Oct. 6, according to an interview with InvestmentNews. He also told the industry newsletter that he would have a team of five or six people at Janus, including a trader, a credit analyst and another portfolio manager.
Before it's here, it's on the Bloomberg Terminal.
LEARN MORE