Gold With Iron Ore Seen as Least Preferred by Morgan Stanley
Glenys Sim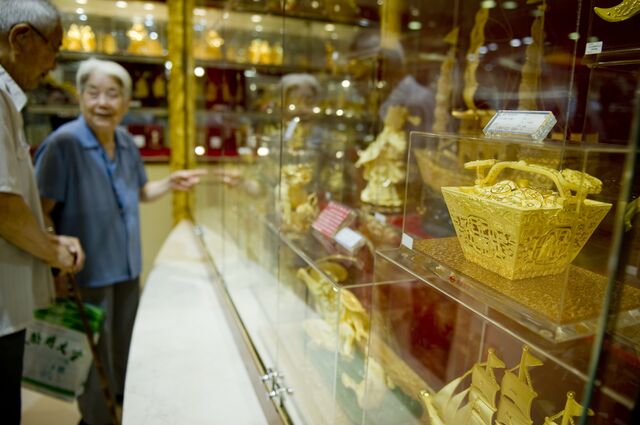 Gold and iron ore will extend losses into 2015 as the dollar's strength hurts bullion and a global glut pushes down the raw material used to make steel, Morgan Stanley said, listing the two as its least preferred metals.
Expectations of rising U.S. interest rates will generate "considerable headwinds" for gold, wrote Joel Crane, an analyst based in Melbourne. Average prices will decline each quarter, reaching $1,165 an ounce in the three months to September, the bank said. That compares with $1,218.44 today. Iron ore estimates were cut by 3 percent in 2014 and 2015.
Gold fell to the lowest this year on Oct. 6 as the Federal Reserve prepared to end monthly bond-buying that fueled gains in asset prices while failing to stoke inflation. Iron ore is near a five-year low as supply exceeds demand and China's economy slows. Iron ore ranked above gold as the bottom two commodities in a table of preferences by Morgan Stanley.
Commodities will continue to face "the twin headwinds of a rising U.S. dollar and mounting concerns over the health of the Chinese economy," Crane wrote. The dollar will remain the key driver for gold, while iron ore prices are likely to stay depressed amid "vast" oversupply, he said.
Gold for immediate delivery averaged $1,282.07 in the third quarter, according to Bloomberg generic pricing. Prices may drop to $1,225 in the last three months of the year, to $1,200 in the first quarter and $1,175 from April to June, the report said.
Eastern Shift
Robust growth in consumption in China and India, the largest gold buyers, will have a positive influence on jewelry, bars and coins in coming years as demand shifts east, Crane wrote. Consumer demand in China rose to a record 1,065.8 metric tons last year, or 28 percent of global use, and may climb to at least 1,350 tons by 2017, the World Gold Council estimates.
Morgan Stanley expects iron ore to average $100 a dry ton this year and $87 in 2015. Prices may be $85 this quarter, down 12 percent from a previous estimate, according to the report. Forecasts for the first quarter of 2015 were cut 3 percent to $89, and were reduced 5 percent to $90 for the three months through June, the bank said.
Ore with 62 percent content delivered to Qingdao, China capped a third straight quarterly drop in the three months to September. Prices tumbled after BHP Billiton Ltd. and Rio Tinto Group raised low-cost output, spurring a global glut and the closing of less competitive producers, while a property slump and tight credit restricted demand in China.
Before it's here, it's on the Bloomberg Terminal.
LEARN MORE