Burnout Among Aid Workers Raises Ebola Risks
By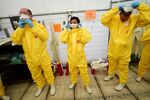 News that a Spanish nurse caring for an Ebola patient in Madrid contracted the virus raises a troubling question: If well-equipped hospitals in rich countries can't protect medical workers from infection, how will the strained health systems in West Africa stop the virus?
Centers for Disease Control Director Tom Frieden said on Tuesday that health workers' risk for transmission increases in two situations: when they've never seen Ebola before or when they've seen so much of it that they become overwhelmed. Problems arise, he said on call with reporters, "if the team is overburdened with so many patients or have such a staff shortage that it's possible even the best and most meticulous people may cut corners."
The CDC is recommending that foreign groups working in West Africa limit workers to six-week deployments at the most. Beyond that, Frieden warned, doctors and nurses may get careless: "I know of at least one infection that occurred when an individual who was known to be very meticulous—and we don't know how that infection occurred—but we do know it occurred when that individual extended his stay past that six-week period."
The risk to aid workers is real. Doctors Without Borders, which has almost 3,000 staff in the Ebola-affected region, including 250 international workers, announced on Monday that a Norwegian staff member had contracted the virus. Of course, local doctors and nurses treating Ebola patients in West African countries don't leave after six weeks. The stress on medical staff is difficult to imagine, and it's likely heightening their risk.
Speaking one week after the first case of Ebola diagnosed in the U.S. was confirmed, Frieden was blunt about the challenges of containing the infection. "We know how to stop Ebola from spreading in hospitals, but that doesn't mean it's easy. It's hard," he said. "It means you need meticulous attention to detail, you need a team working together, you need to make sure that every aspect of the protocol is rigorously and meticulously followed." The more Ebola patients that medical workers must care for, the harder that becomes.
Before it's here, it's on the Bloomberg Terminal.
LEARN MORE