Dewani Witness Says He Was Hired for Cape Town Honeymoon Hit
Mike Cohen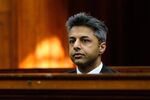 One of two men convicted of killing Anni Dewani on her 2010 honeymoon in Cape Town testified that the taxi driver who hired him to commit the crime said it was ordered by her husband Shrien, who's on trial for her murder.
Appearing on the second day of Shrien Dewani's trial in South Africa's Western Cape High Court, Mziwamadoda Qwabe said taxi driver Zola Tongo told him and accomplice Xolile Mngeni the British businessman agreed to pay them 15,000 rand ($1,340) for the hit.
"Zola told us there was a husband who wanted their wife to be killed and it would have to look like a hijacking," Qwabe, 29, told Judge Jeanette Traverso. "We agreed on the fee. Everyone knew there would be a firearm involved."
Qwabe received a 25-year prison sentence in 2012 after pleading guilty to murder, while Mngeni, who admitted to shooting Anni in the neck, was jailed for life. Tongo is serving 18 years for being an accomplice to the crime, after saying in a plea agreement Dewani paid for the hit.
Dewani, 35, returned to South Africa on April 8 after losing a battle to prevent his extradition from the U.K. He was charged with murder, conspiracy to commit murder, kidnapping, robbery with aggravating circumstances and defeating the ends of justice. He pleaded not guilty to all counts.
In a statement read out by his lawyer Francois van Zyl on Oct. 6., Dewani said while he considered himself bisexual and had sexual relations with prostitutes, he loved Anni and wanted to marry her.
Gunpoint Carjacking
According to Dewani's statement, he and Anni were carjacked at gunpoint while traveling in Tongo's taxi through Cape Town's Gugulethu township on Nov. 13, 2010. He said he was forced from the vehicle, leaving his wife behind.
Anni, who was 28 at the time, was found dead on the back seat of the abandoned vehicle the next day with a gunshot wound in her neck. Dewani denies arranging the killing, as alleged by prosecutors.
Qwabe testified that he and Mngeni waited for the couple at an intersection in Gugulethu as agreed with Tongo. When the taxi arrived, they climbed aboard and Mngeni pointed a gun at the couple and told them to be quiet, Qwabe said. After driving around a while, they ordered Dewani to leave the vehicle.
"I don't recall his reaction," Qwabe testified. "The husband was out of the vehicle. He was told to go and report the incident at one of the houses."
Gunshot Shock
Qwabe said he carried on driving and then heard a gunshot. He was "shocked," pulled over and asked Mngeni what he had done. "He said he had shot the lady."
Qwabe said he and Mngeni shared 10,000 rand left for them in a pouch in the taxi and about 4,000 rand they had taken from Shrien Dewani, before heading home. They were arrested six days after the killing.
Under cross-examination from Van Zyl, Qwabe admitted to lying under oath during his original bail application, when he claimed he had an alibi. Qwabe said he opted to confess and accept a plea bargain on the advice of his lawyer.
A former insurance assessor and tour guide, Qwabe said he was unemployed at the time of the killing and was supported by his mother and aunt.
Van Zyl will continue questioning Qwabe tomorrow. The trial is due to last until Dec. 12.
Dewani has been held at Cape Town's Valkenberg Hospital since his first court appearance after his lawyers argued he needed psychiatric treatment. Dressed in a dark suit and white shirt, he glanced repeatedly at his father Prakash, mother Snila and other family members during the testimony.
South Africa's murder rate is 6.7 times higher than that of the U.S. There were 17,068 homicides committed in the country in the 12 months through March, about 800 more than the previous year, latest police data shows.
The case is the Government of the Republic of South Africa v. Shrien Prakash Dewani CC/15/2014.
Before it's here, it's on the Bloomberg Terminal.
LEARN MORE