For Hong Kong's Students, There's No Escaping China
By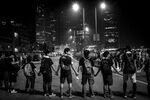 It's one of the bigger ironies of the Umbrella Revolution. Students now are protesting China's efforts to curtail democracy in Hong Kong, but once they graduate, many of these same students will be looking for jobs that depend largely on the mainland. Service-sector industries fueled by Chinese demand, such as retailing, tourism, and finance, account for more than 90 percent of the city's economy. Of the 54 million people who visited Hong Kong last year, 75 percent were from mainland China.
"Economically, Hong Kong cannot be separated from China," says Francis T. Lui, director of the Center for Economic Development at Hong Kong University Science & Technology Business School. "Many of the jobs are directly or indirectly related to China."
That provides China's leaders with some handy leverage if they decide to turn the screws on their recalcitrant subjects in the former British colony. For instance, at the peak of the protests in early October, China's tourism board stopped approving group tours to the city, Bloomberg News reported, citing Joseph Tung, executive director of the Hong Kong Travel Industry Council.
Young people in Hong Kong don't have much choice but to work in the service sector. Getting a job with an export-oriented manufacturer—as a white-collar manager, say, or as a factory worker—isn't possible. Hong Kong once had a thriving manufacturing industry: Billionaire Li Ka-shing got his start after World War II making artificial flowers. But the city's factory owners long ago picked up and moved their operations across the border to take advantage of the giant pool of low-cost workers on the mainland.
China isn't as low-cost as it used to be though, and as wages steadily rise in Guangdong and other export hubs, manufacturers from Hong Kong who operate factories on the mainland are looking for ways to cut costs. Some are moving to Vietnam and other parts of Southeast Asia. Stanley Lau, chairman of the Federation of Hong Kong Industries, says those Hong Kong industrialists should be thinking about moving back home instead. "We are trying to tell some of our members they can bring back some of their core work processes to Hong Kong," Lau says. "Every year you look at the cost of production in China, and it is getting higher and higher," he adds. "This will give us more confidence to move our production back to Hong Kong."
Persuading industrialists to start making things in Hong Kong again won't be easy. Even as China becomes pricier, wages there are much lower than in Hong Kong, says Fielding Chen, an economist with Bloomberg. "In the near term, it's quite impossible for those manufacturing sectors to move back to Hong Kong," he says.
Still, Lau says "a few" members of the federation, particularly companies involved in garment and watch making, have plans to move some work to the special administrative region. One of the major sources of tension between locals and mainlanders is the series of food-safety scares in China that have prompted visitors to flock to Hong Kong and buy up all the infant formula. The city should be able to capitalize on that reputation for quality, says Lau. "If food products are made in Hong Kong, then definitely the consumer would have more confidence in buying these products," he says. That would allow producers to charge a premium for products that carry the words "Made in Hong Kong," argues Lau. "With this label, maybe products can sell at a higher price, so it would be worth it to do this in Hong Kong."
Before it's here, it's on the Bloomberg Terminal.
LEARN MORE