China Facing Mosquito-Borne Dengue Fever Epidemic
By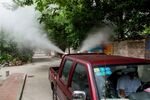 China is facing its worst outbreak of mosquito-borne dengue fever in two decades. The total number of cases in the hardest-hit province of Guangdong has reached 23,146, with 1,661 new cases reported on Monday.
"The situation is getting severe, with more than 1,000 new cases found daily for the past three days," the official Xinhua New Agency reported on Tuesday. Six people have already died, five in the provincial capital of Guangzhou and a sixth in the city of Foshan. Twenty out of 21 prefectural cities in the southern province are affected.
The National Health and Family Planning Commission has called for people to clean up stagnant water in which mosquitoes breed, targeting construction sites and schools. It has also suggested that people wear long-sleeved shirts and pants to cover up their skin. Guangzhou has handed out free mosquito repellant and has set up 450 monitoring stations around the city of more than 10 million people.
At a meeting on Sunday, Chen Jianhua, Guangzhou's mayor, called for "early detection, early medical treatment, and early quarantine" to slow the spread of dengue fever, Xinhua reported.
As feared, the just-finished October 1st National Day week-plus-long holiday, which involved tens of millions of people traveling throughout China, seems to have spread the disease further. Now, provinces abutting Guangdong—including Fujian, Hunan, and Guangxi—have people infected with the viral disease.
Dengue, which causes nausea, rashes, and muscle and joint pain, can be fatal if it leads to internal bleeding. It affects from 50 million to 100 million people in tropical and subtropical regions every year, estimates the World Health Organization.
Unusually warm weather and frequent rain has contributed to a mosquito population in Guangdong five times as high as normal, fanning the outbreak, health officials said. According to the WHO, climate change will likely lead to a global surge in mosquito-borne diseases, including malaria and dengue.
"Dengue is an important problem. It's set to increase and we aren't doing enough to develop concrete tools for its control," said Debarati Guha-Sapir director of the WHO Collaborating Centre for Research on the Epidemiology of Disasters and a professor at Belgium's University of Louvain, in a March interview with the environmental website chinadialogue. "In China I would say that, with urbanization aggravated by climate change … the burden of disease is going to be a problem."
Before it's here, it's on the Bloomberg Terminal.
LEARN MORE