Boston Bomb Suspect's Friend Wasn't Too High, Jury Told
Erik Larson and Janelle Lawrence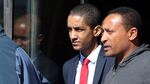 A former college student who claims he was too stoned to remember stopping by Boston Marathon bombing suspect Dzhokhar Tsarnaev's dorm room when fireworks casings and other evidence was removed was coherent enough to win an Xbox game just before the visit, his friend told a jury.
Robel Phillipos, 20, on trial over allegations he lied to U.S. investigators, argues he smoked too much marijuana to remember the visit, during which two friends removed a laptop and backpack holding incriminating items to protect Tsarnaev three days after the terrorist attack.
Azamat Tazhayakov, one of the friends who visited the room and was convicted in July of obstructing justice, testified today in Boston federal court that Phillipos didn't seem impaired during the visit. Tazhayakov was called as a witness by prosecutors.
"Did the defendant have trouble playing the game?" Assistant U.S. Attorney Stephanie Siegmann asked Tazhayakov, who faces 25 years in prison and hasn't been sentenced yet.
"I don't think so," he replied.
The bombing near the marathon finish line on April 15, 2013, was the deadliest terror attack on U.S. soil since Sept. 11, 2001, killing three people and wounding 260. Tsarnaev, 21, faces a possible death sentence if a jury finds him guilty at a separate trial set to start in January.
Coerced Confession?
Phillipos has denied wrongdoing and claims a signed confession to lying was coerced. Tazhayakov was convicted at a jury trial in Boston. A third friend, Dias Kadyrbayev, pleaded guilty to obstruction of justice. The three men, who were all close friends with Tsarnaev, aren't accused of involvement in the bombing or knowing about it in advance.
The three friends visited Tsarnaev's dorm at the University of Massachusetts in Dartmouth after seeing his image on television, and before authorities knew his identity, Tazhayakov said. After 30 minutes, they left the room, went to a Taco Bell drive-through and watched news coverage at home, he testified.
Phillipos was able to walk without trouble, Tazhayakov said.
"Was he slurring his words?" Siegmann asked.
"I don't think so," Tazhayakov said.
Phillipos's case will hinge on the effects of marijuana on memory, defense lawyer Derege Demissie said in opening statements Oct. 6.
Watched Movie
Tsarnaev's former roommate, Andrew Dwinells, was in the dorm during the visit. He testified today that Phillipos sat "calmly" on a bed and watched a movie, while a second friend sat on a chair nearby and a third man rummaged through Tsarnaev's belongings.
Dwinells, 20, who was randomly assigned to the room by the university, said he recognized the friend who was looking around as having helped Tsarnaev move into the dorm. He took Tsarnaev's marijuana from a drawer, Dwinells said.
"I asked him if he was looking for something," Dwinells testified.
The friend, whom Dwinells didn't name, said Tsarnaev was leaving the country and showed him a text message from Tsarnaev giving them permission to take what they wanted.
Dwinells said he then sent a text message to Tsarnaev asking, "What's up?" Tsarnaev never replied, he said.
Evidence Removal
Michael Delapena, an agent with the Federal Bureau of Investigation, testified yesterday that Phillipos confessed to witnessing the removal of evidence and admitted lying in earlier interviews. Phillipos said he regretted not calling the authorities and signed a typed confession, the agent said.
Delapena, a 24-year FBI veteran, said he extracted the confession after asking Phillipos, the Boston-born son of an Ethiopian immigrant, to be part of "Team America" and tell the truth. The agent said he drew tears from Phillipos after saying his father "would be proud of him if he did the right thing."
Two other agents who testified yesterday contradicted Phillipos's claims about marijuana. The student never said in interviews before his arrest that he was too high to recall events after the attack, they said.
The off-campus apartment shared by Kadyrbayev and Tazhayakov was raided the next day by authorities searching for Tsarnaev. The roommates turned the laptop over to the agents and told them they'd thrown the backpack away. It was uncovered days later in a landfill, prosecutors said.
Kadyrbayev and Tazhayakov are citizens of Kazakhstan who were in the U.S. on student visas. Phillipos is a U.S. citizen.
Tsarnaev sought to justify the attacks as retribution for the killing of innocent Muslim civilians by the U.S., including in the wars in Afghanistan and Iraq, according to prosecutors.
Tsarnaev's lawyers argue in court papers that the double bombing was masterminded by Tsarnaev's brother, Tamerlan Tsarnaev, who died in a shootout with police. Tsarnaev and Phillipos both lost bids to move their trials outside Boston.
The case is U.S. v. Kadyrbayev, 13-cr-10238, and the Tsarnaev case is U.S. v. Tsarnaev, 13-cr-10200, both in U.S. District Court, District of Massachusetts (Boston).
Before it's here, it's on the Bloomberg Terminal.
LEARN MORE