Making Sense of the Farcical Hank Greenberg-AIG Trial: Four Blunt Points
Paul M. Barrett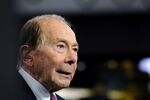 Testimony by former Treasury Secretary Timothy Geithner continues today, Oct. 8, in a closely watched lawsuit by Maurice "Hank" Greenberg challenging the terms of the 2008 taxpayer bailout of American International Group. Earlier, a second former Treasury chief, Henry Paulson, had a turn on the witness stand. Waiting on deck to face Greenberg's celebrity lawyer, David Boies, is ex-Federal Reserve Chairman Ben Bernanke.
Greenberg claims that the bailout cheated him and other AIG shareholders, and he seeks damages of $25 billion from the government. "Cheated?!" one might ask. Yes, that's the claim. Herewith, four blunt points explaining the farce unfolding in the Washington courtroom of Judge Thomas Wheeler:
1. A federal judge previously looked at Greenberg's demands and tossed them. Back in 2012, U.S. District Judge Paul Engelmayer of New York (disclosure: a college classmate of mine and an old friend) dismissed a similar suit by Greenberg. With admirable restraint, Engelmayer described a complaint that "paints a portrait of government treachery worthy of an Oliver Stone movie." Rejecting Greenberg's dark conspiracy theory that the government imposed draconian terms on AIG as part of a "backdoor" deal for major Wall Street banks, the judge could have been harsher. Engelmayer could have observed that ever since Greenberg was forced to resign from AIG amid a 2005 accounting scandal, the wealthy executive has been waging a legal and public-relations jihad against those he blames for his humiliation. Instead, Engelmayer simply found that Greenberg's company, Starr International, failed to present a plausible argument that the Federal Reserve Bank of New York exercised sufficient control over AIG to support a claim that it had a fiduciary duty to the crippled insurance company. In essence, Engelmayer endorsed the central banking system's power to take extraordinary steps to prevent national and global financial chaos.
2. With impressively deep pockets, Greenberg has switched courts and legal theories. At 89, Greenberg is nothing, if not determined. Represented by Boies, who appears intent on burning some of the credibility he's won in such landmark cases as the same-sex marriage litigation, Greenberg has transferred his bitterness to Judge Wheeler's courtroom at the U.S. Court of Federal Claims in Washington. That tribunal has special jurisdiction over certain suits against the government. Boies is now arguing that the AIG bailout offended the U.S. Constitution and laws governing the Federal Reserve. Specifically, Boies contends that the rescue violated the Fifth Amendment prohibition on a government "taking" of private property without proper compensation. Call me literal-minded, but I see two glaring problems with this argument: 1.) The government didn't seize AIG; taxpayers rescued it. And 2.) AIG's board of directors voluntarily agreed to the terms of the bailout because the alternate option was bankruptcy and ruin.
3. Warren Buffett put the Greenberg courtroom circus in proper context. Asked about the AIG rescue at Fortune's Most Powerful Women Summit in Laguna Niguel, Calif., the billionaire investor said that in 2008, Geithner asked his opinion about the advisability of a public bailout of AIG. The question wasn't whether to victimize or exploit the insurance company, but whether to prop it up in the name of preventing a broader financial-system collapse. Geithner asked, "Was there enough in the way of value there to warrant such an $85 billion loan"—the amount the government was considering providing to AIG, Buffett said. "I thought that if they had staying power and, if there weren't things there that I didn't know about, it could be. Probably the underlying subsidiaries would bring $85 billion in a normalized market. And that was that." Fortunately, Geithner and his fellow former senior officials followed Buffett's advice and helped avoid exacerbating the crisis by allowing AIG to go down.
4. Call in Groucho. The New Yorker's John Cassidy, a brilliant observer of the Wall Street scene, noted that absent the bailout, Greenberg would have seen the value of his AIG stock drop to zero. As a result of the rescue, his holding in the company was diluted, but remained in the hundreds of millions of dollars. And this guy is suing taxpayers—you and me—for $25 billion? "Most news organizations are covering the trial straight," Cassidy writes. "It is, in fact, an absurdist comedy, rich in ironies, worthy of the Marx Brothers or Mel Brooks."
Before it's here, it's on the Bloomberg Terminal.
LEARN MORE