pursuits
Airlines Let Sharp Elbows Fly in Dallas Airport's Reshuffle
By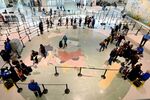 The radical changes taking place this fall at Dallas Love Field Airport have touched off fierce jostling over space and odd fights over flights. It seemed possible that the small airport would lose five daily flights to the major travel hub of Atlanta, yet passengers would still be able to avail themselves twice daily of a departure to El Dorado, Ark. (population 18,000).
The action was set in motion by the formal "opening" of national service next week at the home airport of Southwest Airlines, along with squabbling over gates given up by American Airlines as a result of last year's megamerger. The Oct. 13 expiration of the Wright Amendment, a 35-year-old federal law that restricted flights at Love Field, allows Southwest finally to launch flights nationwide from the airport. Virgin America, which took over two gates from American, will likewise commence new service to New York City, California, and Washington, D.C.
The new flights by Virgin and Southwest come as Delta Air Lines faced eviction. It didn't control its own gate and lost access to the one it had subleased from American. Without a deal, Delta's five daily round trips to and from Atlanta would have been eliminated. On Wednesday, just four days before Delta would have been forced out, Southwest stepped in to sublease gate space in a deal that will last through Jan. 6. Delta spokesman Trebor Banstetter said the carrier is still looking for a "permanent solution to allow for long-term service."
It will probably need to find a fix that doesn't involve United: In January, United plans to nearly double its current service from Love to its Houston hub. That decision drew a blast this week from Imperial Capital analyst Bob McAdoo, who called the new flights a sign of United's "old-style airline thinking" that focuses on unprofitable market share. He warned that the Love Field move "is likely to be highly unprofitable" and suggested that United is either hoarding space or "getting in the way of Delta." Many current United passengers are likely opt for Southwest's new, more convenient nonstops at Love, McAdoo said.
"We are managing our flights and gates at Love Field in the best long-term interest of United," spokesman Luke Punzenberger said on Wednesday.
As part of the schedule expansion, United plans to triple the time its regional jets sit at the Love Field gates, according to a letter of complaint Delta sent Dallas officials last week. "It is simply not true, as the City would have it, that there is no room at the inn for Delta," wrote the company's attorney, Kenneth Quinn. He also accused the city of giving the "hometown favorite Southwest" the gate space.
Delta even asked to use Virgin America's new gates, Virgin's chief executive, David Cush, told the Dallas Morning News. (He said no.) SeaPort Airlines had no such trouble finding space for itself amid the changes at Love Field. The carrier, based in Portland, Ore., flies nine-seat Cessna Caravan turboprops to El Dorado twice daily as part of the federally subsidized Essential Air Service program. Virgin America had no problem letting SeaPort use its gates, given the tiny carrier's quick turns in and out of Love.
Amid all the airport intrigue, Love Field is getting one other new change: The Dallas City Council voted Wednesday to rename the main road into the airport Herb Kelleher Way, to honor Southwest's 83-year-old co-founder.
(
Corrects the third paragraph to reflect that Delta will lease gate space from Southwest.
)
Before it's here, it's on the Bloomberg Terminal.
LEARN MORE