Where Is North Korea's 31-Year-Old Leader?
By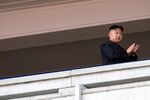 Where is Kim? That question is increasingly being asked about the 31-year-old leader of the oddball state of North Korea. It gained added urgency on Tuesday, as North Korean and South Korean patrol boats exchanged warning fire at a disputed sea border in the Yellow Sea.
For just over a month now, Kim Jong Un, the Swiss boarding school-educated leader of the reclusive state formally known as the Democratic People's Republic of Korea, has not appeared in public. Adding to the intrigue was the sudden visit to South Korea by Kim's No. 2, Vice Marshal Hwang Pyong So, along with two senior North Korean leaders last weekend, where the two sides pledged to restart reconciliation talks. It was the most senior visit by North Korean officials to the South in about five years, and the youthful Kim was nowhere to be seen.
It is still unclear whether Kim, who took over from his father Kim Jong Il upon his death in 2011, has successfully consolidated power in Pyongyang. Late last year, he presided over the execution of his once-powerful uncle, Jang Sung Thaek, accused in accounts by the official Korean Central News Agency of carrying out "anti-party, counter-revolutionary" and "reactionary" acts, as well as being "ideologically sick."
For now, the betting is that the increasingly obese Kim is merely suffering from a physical ailment, most likely gout, according to reports by South Korean media, including Yonhap News. North Korea's state broadcaster reported last month that Kim was feeling "discomfort." On the recent surprise visit to South Korea, one of North Korea's senior leaders reportedly told his South Korean counterpart, that there was "no problem" with Kim's health.
When China's then-incoming top leader Xi Jinping disappeared for two weeks (just half as long as Kim) in September 2012, it fanned a host of rumors that were anxiously exchanged in Beijing and in capitals around the world.
Reports ranged from the mundane (Xi was recovering from a back injury incurred playing soccer or swimming) to the alarming (he was enmeshed in vicious backroom politicking over the makeup of China's soon-to-be-installed top leadership team)—even worse, that he had been injured in a failed assassination attempt. To date, the cause of Xi's absence has not been revealed. Even if Kim eventually reappears, there is no guarantee that the world will soon know the cause of his disappearance.
Before it's here, it's on the Bloomberg Terminal.
LEARN MORE