Slow SEC Payouts Prompt Informants to Go to NY's Top Cop
Keri Geiger and Sam Mamudi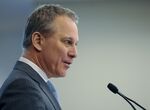 The U.S. Securities and Exchange Commission's offer of huge payouts for details on Wall Street wrongdoing hasn't stopped whistle-blowers who want quick results from calling New York's top cop.
A tip that helped spur New York Attorney General Eric Schneiderman's June lawsuit against Barclays Plc was first shopped to the SEC, as was another that triggered his investigation into a controversial trading practice at BlackRock Inc., said people with direct knowledge of the matter. By going to Schneiderman, informants risk hurting their chances of collecting as much money as possible from the SEC.
The SEC, responding to its failures to police Wall Street before the 2008 credit crunch, tried to improve its bounty program with input from the Internal Revenue Service and other government agencies that have long paid whistle-blowers. While the overhaul benefited from congressional approval to offer bigger rewards in a wider swath of cases, informants say they're frustrated by the SEC's slow process.
"The SEC receives thousands of whistle-blower tips every year, which they can only investigate a fraction of," said Jordan Thomas, a former SEC enforcement attorney. At the same time, "an individual investigation can take years to complete due to the sheer amount of discovery that is required to successfully put a case together," he said.
The SEC lobbied lawmakers to pay whistle-blowers more money on the premise that a regulator with limited resources will always be outgunned by the financial industry unless it can entice Wall Street insiders to come forward with first-hand knowledge of securities fraud.
$30 Million Award
Congress granted its wishes with the 2010 Dodd-Frank Act, which allows the SEC to offer awards in any case that triggers a sanction exceeding $1 million and entitles informants to as much as 30 percent of the money collected from wrongdoers. Previously, the SEC could only pay insider-trading tipsters and claimants were eligible for just 10 percent of fines. The agency announced its biggest award to date, more than $30 million, last month.
"I am very proud of all that the office of the whistle-blower has accomplished in its very short existence," said Sean McKessy, the official who has run the SEC's revised bounty program since its creation in 2011. "We are attracting high-quality intelligence from around the world that has assisted and continues to assist enforcement staff in conducting efficient investigations."
Unfair Trading
Leveraging tipsters is even more important for Schneiderman, whose staff includes about two dozen lawyers focused on financial-industry investigations. Since taking office in 2011, Schneiderman has courted whistle-blowers by saying he's eager to uncover unfair trading advantages on Wall Street.
"The SEC has done outstanding work in bringing cases built on the testimony of whistle-blowers," said Matt Mittenthal, a spokesman for the attorney general's office. "We look forward to continuing our productive partnership with the SEC to protect investors in the marketplace and root out financial misconduct wherever and whenever we see it."
Schneiderman, 59, said he's found an example of wrongdoing at Barclays based on information gleaned from former employees of Britain's second-largest bank. His suit accused Barclays of trying to increase business at its dark pool by soliciting "predatory" high-frequency traders and then hiding their presence on the private-trading venue from other customers.
Active Investigation
One of several whistle-blowers involved in the investigation brought the allegations to Schneiderman after going to the SEC, according to one of the people, who like others who spoke to Bloomberg News asked not to be identified because the names of informants aren't public.
SEC lawyers are actively investigating Barclays and have privately expressed frustration that Schneiderman, aided by fewer legal hurdles, brought a case so quickly, said a person with knowledge of the regulator's examination.
To claim victory, Schneiderman still needs to successfully prosecute Barclays in New York court or settle with the bank. He could be in for a fight. The London-based bank asked a judge to dismiss the suit in July, saying it's based on factual errors and fails to show any investors were harmed.
Mark Lane, a spokesman at Barclays in New York, declined to comment.
Other Cops
In the case of New York-based BlackRock, whistle-blowers went to the SEC in late 2010 to complain that an investment program relying on surveys of analysts gave the world's largest money manager an edge in obtaining non-public information that could move stock prices, said one of the people. An SEC official eventually suggested that the informants consider sharing their concerns with other Wall Street cops, the person said.
The whistle-blowers did just that in July 2013 by going to Schneiderman. By January, BlackRock had agreed to end the surveys and pay $400,000 to cover the cost of his investigation. In settling, BlackRock said it's committed to the "highest" ethical standards and that it discontinued the trading program to avoid even the appearance of impropriety.
SEC spokesman John Nester declined to discuss any specific tips the regulator receives or investigations it has pursued.
While Schneiderman's ability to pay informants is limited to instances in which wrongdoers bilk New York or local governments out of public funds, he wields a powerful weapon in fighting securities fraud through the Martin Act.
SEC's Turf
The 1921 law doesn't require the attorney general to prove that a defendant intended to defraud anyone or that fraud occurred at all, making it broader than most federal prosecution tools. Former New York Attorney General Eliot Spitzer famously began using the law about a decade ago to go after Wall Street's biggest firms, stepping on the SEC's turf in the process. Schneiderman sued Barclays under the Martin Act.
"The Martin Act is so broad and gives the New York attorney general much more leeway to bring a case compared to the SEC, which has to go through a number of hoops to get a case approved," said James D. Cox, a law professor at Duke University.
The hoops for the SEC's enforcement division often include interviewing dozens of witnesses, conferring with other agency divisions that regulate markets and giving targets a chance to respond to allegations before filing a lawsuit. SEC lawyers also have to convince a majority of the regulator's five commissioners to approve any enforcement action, which is a check on bringing weak cases.
Negative Press
Some attorneys general seeking to make names for themselves are more inclined to sue following a brief investigation, with defendants frequently settling amid a barrage of negative press, said Paul Atkins, a former SEC commissioner.
Still, Massoud Maqbool, a managing director at financial-consulting firm Latency Innovation Corp., said the SEC was mostly uncommunicative after he filed a whistle-blower claim more than a year ago, causing him to question how much the regulator looked into his tip about NYSE Group Inc. sending out incorrect time stamps for equity trades.
After hearing nothing for months, Maqbool started including Schneiderman on e-mails he sent to the SEC. He said he also alerted Intercontinental Exchange Inc.'s NYSE, which ended up acknowledging the issue and fixing it. NYSE spokesman Eric Ryan declined to comment.
'One-Way Street'
"The communication is often a one-way street at the SEC," said Thomas Sporkin, a former SEC enforcement lawyer who helped set up the whistle-blower office before joining BuckleySandler LLP in 2012. "The exception is when a whistle-blower becomes a material part of an investigation. Then the individual will have a sense of how valuable their contribution is."
Even the negotiations between the SEC and the informant that triggered the record payment announced last month went less than smoothly.
The whistle-blower, who lives outside the U.S., complained that the award was low compared with earlier payouts, according to an SEC legal filing. The SEC attributed that to the tipster sitting on the information, causing investors to "suffer significant monetary injury that otherwise might have been avoided." The whistle-blower countered that the delay occurred because of uncertainty over whether the SEC would actually take action, the filing shows.
Quick Successes
The SEC has had successes and quick ones. The second-largest award of $14 million, announced a year ago, involved a tip that led to an agency enforcement action less than six months after the informant came forward. The SEC doesn't disclose details about any of the cases, as it's legally barred from naming whistle-blowers or providing information that might reveal their identities. In total, the SEC has paid more than $45 million to 14 individuals.
The U.S. Department of Justice, which has long paid whistle-blowers, now wants to increase its awards. Last month, U.S. Attorney General Eric Holder called for a new law to boost payments, saying the $1.6 million limit the department faces isn't enough to persuade bankers to risk their careers.
Thomas, the former SEC enforcement attorney who now represents whistle-blowers at Labaton Sucharow LLP, cautions that cash alone isn't what motivates many informants.
"Some just want to right what they see as a wrong," he said. "Others feel unfairly retaliated against, which drives them to report wrongdoing to the various regulators and law-enforcement groups."
Before it's here, it's on the Bloomberg Terminal.
LEARN MORE