There Are No Fewer Than 4 Important Senate Debates Tonight
Five U.S. Senate candidate debates are on the docket today.
By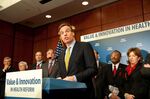 Any plans at 7 p.m. eastern time tonight? The big Nats v. Giants game isn't until 9 p.m., so how about watching a U.S. Senate debate? How about FOUR of them?