Here's Who's Getting Hammered By Russia's Falling Ruble
By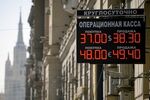 President Vladimir Putin may control the levers of power in Russia, but there's one thing he hasn't been able to control: the relentless slide of the ruble.
The currency is down about 20 percent against the dollar since January and is now at its lowest level since Russia's 1998 debt default. Its performance this year is the worst of any major currency except Argentina's peso.
It could fall farther, despite interventions by Russia's central bank, which over the past few days has spent $1.75 billion to prop it up. The ruble remains under "permanent pressure" as investors flee the country and sanctions choke off access to foreign capital markets, Vladimir Evstifeev of Moscow's Bank Zenit tells Bloomberg News.
The central bank runs the risk of depleting its reserves if it keeps spending to prop up the ruble. That's why many analysts are betting its next move will be to hike interest rates as early as this month, pushing its key lending rate to 8.5 percent. That would put the brakes on economic growth that's already sputtering.
In the meantime, the falling ruble claims more and more victims. They include:
• Russian consumers. As the currency sinks, inflation has risento 8 percent, including an 11.4 percent year-on-year rise in food prices during September, according to the state statistics service. Sales of imported consumer goods such as laptop computers have collapsed, and Russians are holding off on buying cars and other big-ticket items.
• Russian banks and companies. The declining ruble is hitting their balance sheets, which include some $54.7 billion in foreign debt repayments due in the next three months. "It's possible that some private borrowers could require government assistance to service their external liabilities, says economist Neil Shearing of Capital Economics in London, "particularly given that large parts of the private sector have been effectively shut out of global capital markets" by Western sanctions.
• Foreign manufacturers in Russia. Companies ranging from Danish brewer Carlsberg to automaker Nissan are getting hammered by investments in local manufacturing operations. A weak ruble makes it more expensive for them to import supplies, leading to higher consumer prices that depress sales. Companies such as Nissan are pushing to source more parts locally. Even if they do, a weaker ruble will reduce the foreign-currency value of profits repatriated to their home countries.
• Hotel owners in Turkey and Egypt. They and others who have catered to Russian tourists are getting hit, as many Russians can no longer afford overseas travel. Britain's TUI, one of several companies that have offered package tours to destinations such as Antalya, Turkey, and Sharm el Sheikh, Egypt, said on Oct. 2 that it is cutting the number of vacation packages offered to Russian customers by 30 percent. Several Russian tour operators specializing in foreign travel have gone out of business.
One potential benefit of a devalued currency is that it lowers the cost of local production, making domestic manufacturers more competitive. The Russian government says that's happening. Its news service, Russia Beyond the Headlines, has been reporting increased activity in industries such as food processing and metallurgy.
The problem with this scenario is that Russia's manufacturing base has been neglected for years as the economy relied mainly on exports of oil, gas, and other commodities. Russian factories can't substantially increase output without major capital investment, says Shearing of Capitol Economics. With capital flight from Russia forecast to reach as much as $120 billion this year, chances of getting that investment look slim.
Before it's here, it's on the Bloomberg Terminal.
LEARN MORE