The Supremes Punt on Same-Sex Marriage: Four Blunt Points
Paul M. Barrett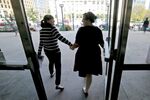 The Supreme Court caught nearly everyone by surprise when it took a pass—for now—on same-sex marriage. What gives? Four blunt points:
1. Justice Ginsburg tried to warn us. Speaking last month at the University of Minnesota Law School, Ruth Bader Ginsburg was asked about the high court weighing in on gay marriage. Rather than engaging on the merits of the issue, Ginsburg, a former law professor and women's rights litigator, pointed out that lower federal appeals courts were in agreement that banning same-sex unions is unconstitutional. If that lower-court unanimity persisted, she observed, there was "no need for us to rush" at the Supreme Court level, according to the Associated Press. This comment reflects the justices' preference to allow controversial issues to "percolate" in the lower courts until a clear conflict emerges–at which point the Supremes intervene to resolve the conflict.
2. The justices' non-action was good news for gay equality. By punting, the high court let stand lower court rulings supporting same-sex marriage. The Human Rights Campaign, a leading gay-rights group, noted that "nearly half of all states now allow same-sex couples to legally marry. … The unprecedented expansion of marriage rights across the country largely mimics the meteoric pace at which public support for marriage equality has grown in recent years." According to HRC, same-sex couples can legally marry in 24 states: California, Connecticut, Delaware, Hawaii, Illinois, Indiana, Iowa, Maine, Maryland, Massachusetts, Minnesota, New Hampshire, New Jersey, New Mexico, New York, Oklahoma, Oregon, Pennsylvania, Rhode Island, Utah, Vermont, Virginia, Washington, and Wisconsin. Washington, D.C., can be added to that list. At this time last year, same-sex couples could legally marry only in 13 states and Washington.
3. Gay-marriage foes weren't happy. "The notion that the Supreme Court would sit on the sidelines without having anything to say about it is bizarre," said John Eastman, chairman of the National Organization for Marriage, which opposes same-sex unions. Today's action is "indicative of the utter lawlessness by which all of these cases have proceeded." Although gay-marriage advocates also wanted a national ruling from the justices, most nevertheless celebrated. "This is an extraordinarily exciting and extremely gratifying moment," Theodore Olson, a Washington lawyer who argued at the Supreme Court in favor of gay marriage in a California case last year and who now represents couples seeking to wed in Virginia, told Bloomberg News.
4. Next steps aren't obvious. The high court's inaction left open the possibility that the justices might get involved in gay marriage in the near future, maybe even before their new term ends late in June. Five members of the high court seemed to signal support for gay marriage last year, when they struck down part of a federal law denying benefits to legally married same-sex partners. That ruling led to dozens of victories for gay-marriage advocates in the lower courts while building expectations that the justices would soon take the final step, Greg Stohr, the Bloomberg News Supreme Court reporter, observed. Now we'll all just have to be patient.
Before it's here, it's on the Bloomberg Terminal.
LEARN MORE