These Motorized Skates Are Like Segways for Your Feet
By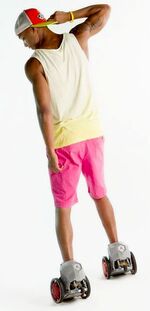 The Segway was sort of like the Google Glass of 2001. The unpopularity of the stand-up scooter stemmed from two major drawbacks: its perceived dorkiness and its $5,000 price tag.
The inventor behind RocketSkates has endeavored to sidestep the Segway's flaws while revisiting its basic idea, with battery-powered, motorized roller skates. Peter Treadway, the Los Angeles-based designer, came up with something that's fairly unobtrusive, relatively affordable, and not painfully dorky. You strap RocketSkates onto regular flat-soled shoes before floating down the street at 10 mph. Acton, Treadway's startup, bills the skates as the "world's first smart wearable transportation."
Users control RocketSkates by shifting their weight forward to accelerate and backward to slow down. A smaller wheel on the heel provides stability; it's also the braking mechanism, which engages when you press down with your heel. RocketSkates take some practice because, unlike the Segway, they aren't self-balancing. The skates communicate with each other and with your smartphone via Bluetooth. An app allows riders to track their route, performance, and battery power, and to compete with friends.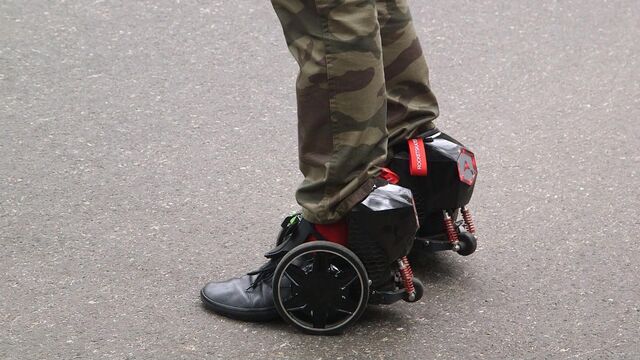 The inventor sees them as a more versatile, secure, and convenient alternative to some other forms of urban transport. Acton was careful to keep the maximum speed at 12 miles per hour, which is below most states' limit for motorized-vehicle use on sidewalks. You don't have to look for parking or lock up the skates when not in use. And the skates can even be worn while walking or climbing stairs, since the wheels are on the sides of the shoes rather than underneath the feet.


"We think they're really good for college campuses and urban environments," Treadway says. "Places where people just kind of want to get out and enjoy themselves but also would rather not drive."
RocketSkates began as a master's project while Treadway was a student at Art Center College of Design in Pasadena, Calif., from which he graduated in 2008. His initial wearable-transportation idea was an exoskeleton that could make people run faster and jump higher. "No matter how well that worked, it was just so dangerous," he says. The concept morphed into skates, which are significantly safer but still require a helmet and other protective gear.

The first generation of robo-skates—a bulkier, heavier version of RocketSkates—was born in 2012 as a Kickstarter launch. That campaign surpassed its funding goal, but its success paled in comparison with that of the updated model, which received more than $550,000 in August. (Acton has closed Series A funding, but Treadway declines to say how much he's raised and from whom.) In the intervening two years, the designer managed to shrink some of the main components, including the motors—there's a 50-watt motor in each of the two big wheels—and reduced the number of lithium ion batteries from 14 to 10. Now each skate weighs a little less than 7 pounds.
Price varies depending on battery life and corresponding color. The $499 R6 Rocket Red lasts 45 minutes (about 6 miles); the $599 R8 Terminator Chrome, 70 minutes (8 miles); and the $699 R10 Deep Space Black, 90 minutes. Every model recharges in about 2 hours and supports up to 275 pounds.
If you like to keep a low profile, this isn't the footwear for you. You're sure to attract gawking and may even stop traffic—another potential safety hazard. But if you're concerned about the dork factor, keep in mind that Prince, a gatekeeper of cool, is known to sport his own pair of stellar skates. In his book Mo' Meta Blues, the drummer Questlove describes the celebrity's "singular pair of roller skates": "They were clear skates that lit up, and the wheels sent a multicolored spark trail into your path." Only rock royalty could get away with those.
Before it's here, it's on the Bloomberg Terminal.
LEARN MORE