Rajoy Adds Ebola Outbreak to List of Spanish Challenges
Ben Sills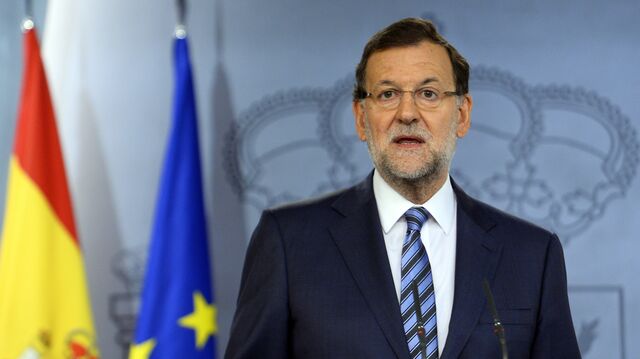 Spanish Prime Minister Mariano Rajoy can add the Ebola virus to the list of challenges piling up on his desk.
The European Commission called on Spain to explain the first known Ebola case to be contracted outside of Africa yesterday as officials in Madrid raced to track down all those who had contact with a nursing assistant who showed symptoms for almost a week before she was quarantined. A doctors' union has demanded Health Minister Ana Mato resign over the case.
"This will have an impact in terms of showing their incompetence and their lack of transparency," Alejandro Quiroga, a lecturer at Newcastle University, northeast England, who's studying the impact of health-care privatization in Spain, said of the Rajoy government. "It's all such a mess."
Rajoy was already struggling to convert the economic gains Spain has made since it emerged from recession last year into political capital with voters exhausted by record unemployment, allegations of political corruption and the deepest budget cuts in a generation. Even the flagship progress on the economy, spurred by record tourism revenues, faces headwinds going into an election year in 2015 as German growth stutters.
The prime minister, answering questions in parliament today, said the government has been transparent with the public over the case, urging Spaniards to stay alert and remain calm.
Hotels Drop
Spanish hotel operator NH Hotel Group SA declined 0.7 percent after plunging 4.8 percent yesterday. International Consolidated Airlines Group, which includes the Spanish carrier Iberia, fell 1.5 percent following a decline of 6.6 percent.
"It's not good for a tourist country to be on the international front pages," Jose Carlos Diez, an independent economist who has taught at Icade business school in Madrid and the University of Alcala, said on Twitter. "Let's hope the Ebola outbreak is controlled."
Since returning from the summer recess, Rajoy has faced defiance from Catalan leaders intent on holding a referendum on independence, while Justice Minister Alberto Ruiz-Gallardon resigned after the government abandoned its attempt to raise restrictions on abortion. That measure was designed to reassure the party's core voters who'd been upset by tax increases that breached promises Rajoy made before his 2011 election.
Election Breach
Support for the prime minister's People's Party slipped to 30 percent, behind the main opposition Socialists, in a Metroscopia projection based on a survey of 1,000 people conducted Sept. 19 and 30. Just 12 percent of respondents said they intended to vote for Rajoy.
"There's an increasing amount of abstention among PP voters who feel disappointed by the government breaking some of its election promises such as the withdrawal of the abortion law," said Antonio Barroso, a political analyst at Teneo Intelligence in London.
That was before Mato called a briefing on Oct. 6 to explain that a nursing assistant who helped care for a Spanish Ebola victim repatriated from Sierra Leone was being treated in the Spanish capital after it was confirmed she was suffering from the virus. The announcement came six days after the woman first displayed symptoms.
"They have been incapable of handling this situation," said Julian Ezquerra, general secretary of the doctors' union, AMYTS Asociacion de Medicos y Titulados Superiores de Madrid. He said cuts in health-care spending had contributed to the problem and called on Mato to resign.
The woman should probably have been quarantined as soon as those symptoms appeared, Fernando Simon, coordinator of emergency alerts at the Health Ministry said in a radio interview yesterday.
Paracetamol Prescribed
The nursing assistant sought help before being admitted to hospital two days ago, Elvira Gonzalez from the Union of Nursing Technicians, said in a news conference. First she went to Madrid's La Paz hospital and then to her doctor who gave her the pain reliever paracetamol, Gonzalez said.
"Obviously there is a problem somewhere," European Commission spokesman Frederic Vincent said yesterday, in comments reported by El Pais newspaper.
The 44-year-old woman's husband is among 52 people whom health-care officials in Madrid are monitoring for symptoms of the virus, officials including Rafael Perez-Santamarina, head of La Paz hospital, said at a news conference. Twenty-two of them came into contact with the nursing assistant before her symptoms were identified, the officials said.
Hospital Procedure
"We are complying with the established procedure but we are revising all protocols, including those inside the hospital and those outside," Perez-Santamarina said. "We are trying to check to see if there has been any kind of failure for whatever reason -- we are in full investigation mode."
For now, the opposition is tempering its criticism of the government's role in the outbreak. Socialist leader Pedro Sanchez said on Twitter that the priority now is to ensure public safety and only later talk about who bears "political responsibility."
"If the outbreak is controlled, the potential backlash will be controlled," said Barroso of Teneo Intelligence. "If not, the situation could become more problematic."
Before it's here, it's on the Bloomberg Terminal.
LEARN MORE