NFL Fantasy Owners Denied Peterson Turn to Daily Contests
Erik Matuszewski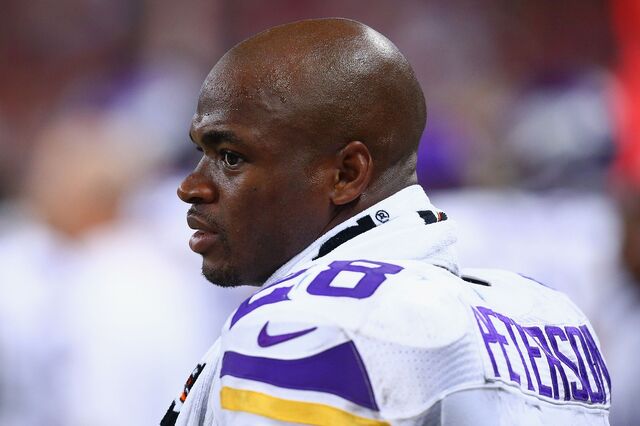 Adrian Peterson's indefinite suspension from the National Football League didn't just drive fantasy team owner Justin Scalise to seek a replacement for the Minnesota Vikings' Pro Bowl running back in the season-long league he's played in for more than 10 years.
Peterson's ban, which came after he was indicted on a charge of hitting his son with a thin branch, spurred Scalise to venture into the world of daily and weekly fantasy leagues. He hasn't been alone.
Led by companies such as FanDuel Inc., DraftKings Inc. and DraftDay, daily and weekly play contests are the fastest-growing segment of an industry in which participants spent $3.64 billion on products, services and entry fees last year, according to the Fantasy Sports Trade Association.
"We got a huge influx of players in the early weeks of the season and a cohort were Adrian Peterson owners, many of whom had season-long teams busted by Week 3," FanDuel Chief Executive Nigel Eccles said by telephone from Edinburgh. "They know they're likely out of the running, but they don't want to give up on football, and fantasy is a big driver of their interest. This helps them do that."
In so-called daily fantasy football, participants use statistics from one week's NFL games, Thursday, Sunday and Monday.
New York-based FanDuel last month announced an additional $70 million in funding, while DraftKings kicked off the NFL season by raising $41 million in outside investments to help expand their daily fantasy sports products in the U.S. FanDuel said it will pay out more than $400 million in prizes this year and projects that total to top $1 billion next year.
Going Mainstream
"We really just tipped into the mainstream last year," Eccles said. "What I see is that daily will, over the next two to three years, become larger than the traditional leagues for baseball, basketball and hockey. Ultimately it will surpass the popularity of the season-long leagues in football too."
While fantasy team owners draft players in season-long leagues, weekly play participants select a roster of players using a salary-cap format. A player such as Denver Broncos quarterback Peyton Manning might account for more than $9,000 against a participant's $50,000 payroll limit, while a tight end such as Jermaine Gresham of the Cincinnati Bengals costs about $3,000.
In both the traditional season-long leagues and daily contests, NFL players accumulate points for their owners based on the real statistics they generate.
The loss of a top draft pick in season-long leagues -- whether to injury or off-the-field reasons -- can be devastating. In daily or weekly NFL leagues, team owners are tied into a particular roster for only that short period.
Peterson's Impact
Scalise, 30, used the fourth overall pick in his season-long draft to snag Peterson, whose 2,097 rushing yards two years ago were the second-most in a season in NFL history. That year, fantasy teams that featured Peterson in the backfield won 59.8 percent of their games, according to CBS Sports, a percentage higher than that of any other player.
Peterson played in only one game this season before being indicted on a charge of hitting his four-year-old son with a switch as a form of discipline. The Vikings barred Peterson on Sept. 17 from all team activities until legal proceedings in his child abuse case are resolved.
His attorney, Rusty Hardin, said after the indictment that Peterson is a loving father who used the same discipline that Peterson himself experienced growing up in East Texas. The boy had cuts and bruises, and Hardin said Peterson never intended to harm his son.
Drafting Peterson
Scalise had his fantasy draft before the grand jury handed up the indictment, and was surprised that he was able to draft him.
"It felt like he dropped to me and I was happy about that, then this terrible story comes out," Scalise said in a telephone interview from Chicago. "You hate to bring a serious topic like that up in your selfish fantasy league. But this wasn't the first time I've dealt with a situation like that in my primary league."
Scalise in 2011 used his top fantasy pick on Kansas City Chiefs running back Jamaal Charles, who two weeks into that season was lost to a torn knee ligament. Scalise said the weekly leagues would have been a nice option to have that year because his season-long team fell out of contention "pretty quickly" after Charles's injury.
"There's definitely some things that are nice with the season-long leagues, but this is clearly an advantage to the daily games," DraftKings Chief Executive Officer Jason Robins said by phone. "If you have Adrian Peterson, you probably spent a high pick on him. Now you're looking at your workhorse being out. In a daily game, you don't have that issue."
Customer Base
It's one of the reasons the customer base for DraftKings has jumped 12 times from the same time a year ago.
The website last week kicked off the first in its fantasy football millionaire series, with a $27 buy-in giving the 92,400 participants a chance at a $1 million first place prize. More than 15,000 other top finishers will also be paid out, with a total of $2.2 million in winnings available.
DraftKings currently has three other weekly contests in its millionaire series planned and is on track to pay out more than $200 million this year.
FanDuel said it pays out more than $10 million in prizes each week, with league entries starting for as little as $1.
Scalise said money wasn't his biggest motivator for making the jump to the daily and weekly leagues, even though he'd lost Peterson. Paul Charchian, president of the Fantasy Sports Trade Association, said their studies show that potential monetary gain ranks just fifth among motivators for fantasy players.
"It's not like I'm trying to make money and not work," Scalise said. "Getting involved in these kinds of leagues, I'm interested in a lot more games than my primary Bears' game. It gets your competitive juices going. As you grow up, you kind of stop playing competitive sports, and this is an outlet."
NFL Embrace
The NFL has embraced the popularity of fantasy leagues, which have boosted interest in a sport that's had the 12 most-watched shows on television between Sept. 1. and Oct. 3.
NFL game telecasts are the only programs since the U.S. Labor Day holiday to draw at least 19 million viewers and DirecTV, which last week reached a new eight-year, $12 billion agreement with the NFL, has channels dedicated to tracking player performances from a fantasy football perspective.
"What it does is take people who are passionate about their hometown team and makes them much more interested in the NFL in general," Patriots President Jonathan Kraft said of fantasy football last week at the Bloomberg Boston Sports Forum. "That's one of the reasons over the last decade you've seen the ratings for the NFL continue to grow when everything else is shrinking."
Before it's here, it's on the Bloomberg Terminal.
LEARN MORE