New Watch: Zenith Academy Christophe Colomb Tribute to Felix Baumgartner
by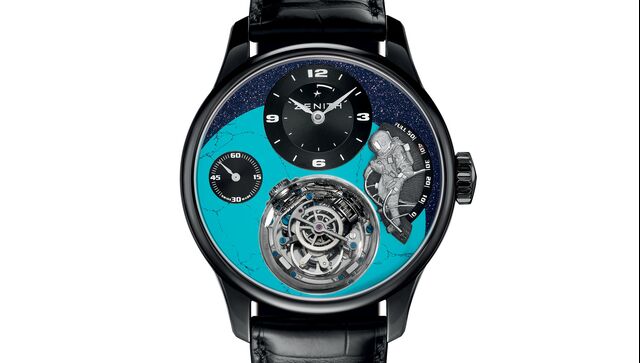 Calling all nerds! With this update to the highly technical Academy Christophe Colomb tourbillon, Zenith has infused the watch with an over-the-top depiction of Felix Baumgartner's 2012 record-setting jump from the stratosphere. Here, an aventurine sky and turquoise Earth sit behind a handmade sculpture of Baumgartner standing at the edge of his capsule (right in front of the watch's power reserve indicator) before taking the plunge. It's almost enough to make you forget that gyroscopic escapement floating in a bubble at 6 o'clock. Almost.
First Thoughts: You'd be hard-pressed to dream up a more ornate tribute to Baumgartner's mission than this. Unlike previous Baumgartner-related watches from Zenith, this watch is more about art than function. It's beautifully made, sure, and technically the escapement suspended in a gyroscope is unbelievable, but would I want to wear it? Not so much. The most appealing detail is actually the black DLC coated platinum case -- who doesn't love a little stealth wealth?

Cocktail Party Fact: The gyroscopic "Gravity Control" system is based on the same technology that kept marine chronometer clocks accurate on long 18th-century voyages (hence the nod to Columbus in the watch's name). Shrunk down, it requires the creation of a bubble in the sapphire crystal to give it room to move. Instead of constantly revolving like a tourbillon, it suspends the escapement freely, ensuring that it's always in a horizontal position, no matter what you're doing with your hands. Now get off you butt and go discover something!
The Basics
Case Diameter: 45mm

Case Thickness: 14.35mm (21.40mm with sapphire crystal's bubble)

Case Materials: Black DLC-coated platinum

Dial: Aventurine "statosphere," blue turquoise "Earth," hand-chased and engraved gold Felix Baumgartner decoration, with matching white gold hands and lacquer hour markers

Strap: Black alligator with rubber lining and black DLC-coated white gold buckle
Complications: Power reserve at 3 o'clock, gyroscopic "Gravity Control" mechanism at 6 o'clock, running seconds at 9 o'clock

Reference Number: 39.2210.8804/58.C714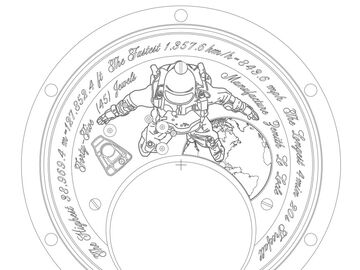 The Movement
Caliber: El Primero 8804

Parts: 308 (171 in the gyroscope cage alone)

Power Reserve: 50 hours

Winding: Manually-wound

Finishing:Hand-engraved depiction of Baumgartner's jump, with his capsule and the Earth, as well as the three world records set during the jump.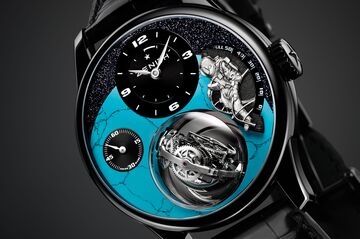 Getting One
Availability: Limited edition of 10 pieces

Price: $275,000
Bloomberg's New Watch report is your source for the most up-to-date news in the world of horology, telling you exactly what you need to know about newly released watches from around the globe.
Before it's here, it's on the Bloomberg Terminal.
LEARN MORE