Kohl's Merkel Grudge Bared in Critique of Table Etiquette
Arne Delfs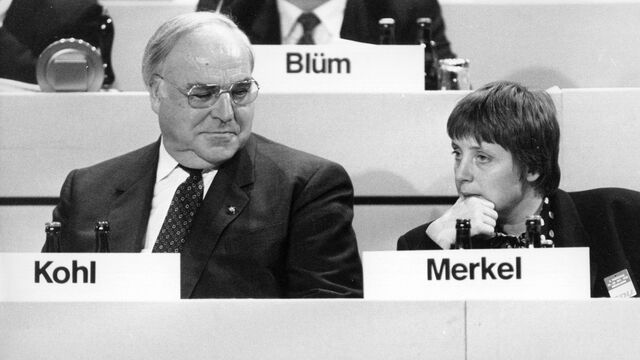 Former German Chancellor Helmut Kohl's vitriol spares few of his peers in a disputed biography that includes a putdown of Angela Merkel's table manners.
Kohl, 84, has an ax to grind with Merkel, who broke with her mentor over a Christian Democratic party financing scandal in a 1999 newspaper article, took over as party head and was elected chancellor six years later. The book presented today by German reporter Heribert Schwan, who says he conducted some 600 hours of interviews with Kohl in 2000 and 2001, quotes him as saying that Merkel "couldn't properly handle a knife and fork" early in her political career. "She slouched around at state dinners to the point that I had to call her out."
With personal attacks on many prominent German politicians, the comments attributed to Kohl add to the legacy of the chancellor best remembered for presiding over the reunification of East and West Germany in 1990 after the Berlin Wall fell. Kohl's office in Berlin declined to comment when contacted by phone today.
"He will never forgive Angela Merkel for writing that article in the Frankfurter Allgemeine Zeitung" in 1999, in which she urged the party to leave the Kohl era behind, Schwan told reporters in Berlin. "Once an enemy, always an enemy."
Kohl's Legacy
As Germany prepares to celebrate 25 years since the Wall fell on Nov. 9, 1989, Kohl's reported comments suggest he believes Merkel, 60, owes him a debt of gratitude for taking the East German physicist under his wing and opening the door to her political career, according to Der Spiegel magazine, which published excerpts of the book this week.
Kohl was West German chancellor during the Cold War from 1982 to 1990, when he led the Christian Democrats to victory in Germany's first post-unity election. He gave Merkel her first cabinet post and won re-election before voters dumped him in 1998.
The next year, Kohl admitted that he had illegally accepted anonymous donations of as much 2 million marks ($1.3 million) as party chairman and refused to name the donors.
According to the book, Kohl also criticized Merkel as having "no clue" about European policy. A decade later during the euro area's debt crisis, he again prodded her to keep European unity in mind.
Belittles Protests
German reunification, which ended Europe's Cold War division 45 years after the defeat of Nazi Germany in World War II, followed mass protests by East Germans against the Communist regime. Yet Kohl attributed the historic changes to Soviet economic weakness and belittled the idea that East German protesters "changed the world," according to the book.
Kohl is more positive in his comments on former U.S. presidents Ronald Reagan and George H.W. Bush.
"In my view, Reagan was totally underestimated -- everybody saw Reagan as a half-wit, an actor" and French President Francois Mitterrand, "saw Reagan as a fool," Kohl said, according to the book, adding that Reagan knew how to deal with leaders of the Soviet Union.
Bush, who was in office during German reunification, is described by Kohl as "well-informed, a real American patriot, a gentleman and a stalwart friend. For the Germans and for me he was a godsend."
Court Order
Kohl's lawyers last year won a court order for Schwan to return the interview recordings after what the biographer says was a dispute about whether the ex-chancellor had cleared his comments for publication. Schwan said he kept copies and went ahead with the book. Rainer Dresen, a lawyer for publisher Heyne Verlag, said today that Kohl's lawyers have asked the company to refrain from publishing his comments.
Steffen Seibert, Merkel's chief spokesman, told reporters yesterday that the chancellor would have no comment.
Kohl would probably face a costly legal battle if he sues against the book's publication, Johannes Eisenberg, a copyright lawyer in Berlin, said in an interview. "And Kohl would have to finance the lawsuits if he decided to take legal action against the book," he said.
Before it's here, it's on the Bloomberg Terminal.
LEARN MORE