Karl Rove Pours $2.1 Million into the Bayou
The former Bush advisor's super-PAC will try to hit Democratic candidates for their support of Obamacare.
Annie Linskey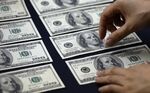 Crossroads GPS is inserting itself into the Louisiana Senate contest for the first time Tuesday, spending $2.1 million to put up a 30-second spot that hammers Democratic incumbent Mary Landrieu for her support of Obamacare.

The group, along with its sister organization American Crossroads, combine to be an advertising juggernaut this year. They've run approximately 30,000 spots on network TV and national cable in seven states since January, according to Kantar Media's CMAG data. Until now they hadn't engaged on TV in the Pelican State, where Republican Representative Bill Cassidy is leading opponent Landrieu by single digits.

They're not the only outside group eyeing the state. Ending Spending, a conservative superPAC backed by billionaire TD Ameritrade founder Joe Ricketts, announced this week that they'll put $2.4 million into contest if it isn't resolved in November and goes to a runoff. The group would spend the funds attacking Landrieu.   

Crossroads is also re-upping ad buys in Iowa and Arkansas—with new Obamacare-themed spots airing Tuesday as well on behalf of Republicans. On Monday the group launched new Obamacare ads to support GOP senate candidates in Alaska and Kentucky.