Is Michelle Obama Still 'The Closer' Democrats Need on the Trail?
Michelle Obama is hitting the campaign trail for Democrats and transforming the role of first lady.
By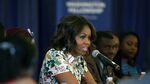 Michelle Obama's hitting the campaign trail this week to charge up the Democratic base for midterm elections that will determine control of the Senate -- and the comfort zone at the White House during their last two years of residence. Yet even though she earned the title of "the closer" during the 2007-2008 campaign because of her ability to rally the party base, doing that as first lady is trickier business.