Hong Kong 'Dream Seekers' Hold No Appeal for Mainlanders
Ting Shi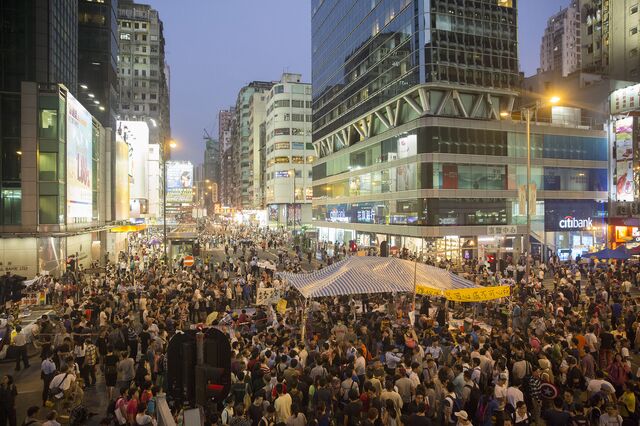 Beijing-based student Du has heard about the pro-democracy protests that have gripped Hong Kong for almost two weeks, and views the student leaders as "admirable dream seekers." She doesn't want to join them, though.
"They're seeking greater political rights and you wouldn't find this kind of pursuit in most young people in the mainland," said Du, 20, who attends the Communication University of China and asked not to be identified in full because of the risk of reprisal. "I personally admire them, but I wouldn't do what they're doing, and I wouldn't join them if asked to."
Du, a film-directing major who plans postgraduate study in Hong Kong, is from a generation of Chinese children whose parents prioritize study and career success, steering their offspring clear of the activism that spurred the 1989 student-led Tiananmen Square rallies. That, along with curbs on information on the Hong Kong protests flowing into China, has lessened the risk the demonstrations spur a parallel movement on the mainland and trigger broader social unrest.
Yuan Weishi, a professor of history at Sun Yat-sen University in Guangzhou, casts the central government's reaction to the Hong Kong protests as "small ripples in the ocean."
"The student movement would only spread and stir up a chain reaction if the incumbent leadership is weak or there's a socio-economic crisis going on. Neither is the case," Yuan said. "Xi Jinping's central government is in a strong enough position not to get anxious about the ripples."
Umbrella Man
The Tiananmen crackdown is marked in Hong Kong on June 4 each year, with tens of thousands of people attending a candlelight vigil in Victoria Park to remember those killed. The student protesters have seemingly taken inspiration from that event by building a wooden statue of "Umbrella Man" -- a play on the movement's moniker "umbrella revolution"-- drawing comparisons to the "Goddess of Democracy" statue erected in Tiananmen Square in 1989.
Mainlanders like Du, who use proxy servers to read about the Tiananmen crackdown, are less eager to link the two events.
"Our sense of democracy is not as remotely strong as those of Hong Kong students," she said. "The strongest political posture might be re-posting pro-democracy articles on WeChat," a social messaging network.
"We would rather follow the herd than stand out; the person who sticks their neck out would hardly find a young follower here," she said, referring to Joshua Wong, the 17-year-old who is helping lead the Hong Kong protests.
State Media
Mainlanders born after 1989 live in an era of greater economic abundance and tight political control. China overtook Japan to become the world's second-biggest economy in 2010, and 68 percent of China's urban consumers earn 60,000 yuan ($9,800) to 229,000 yuan a year, a range that sits between the average income of Brazil and Italy. In 2000, 4 percent of urban Chinese households were in that band, according to a 2013 report by McKinsey & Co.
An editorial in the state-run Global Times newspaper called on the Hong Kong students to think about their future and go back to school, and said mainlanders had been proud of the city's economic achievements. "Hong Kong, only the mainland will really feel your pain," the paper said.
Pan, a 22-year-old graduate student at Beihang University in Beijing, said she obtained information about the Hong Kong protests from state television. She hoped the rallies would end soon as "the movement has caused a lot of pain to ordinary Hong Kong people."
Stable, Peaceful
"We have a stable and peaceful life when a lot of people in other parts of the world are dodging bullets and having wars," said Pan, who also asked not to be identified in full. "It's not possible for this kind of rally to happen in Beijing" she said. "Our educational system effectively discourages students to participate in politics."
The central government prioritizes social stability and is sensitive to signs of activism by students. More than 50 people were put under criminal detention between February and October last year for campaigning against such things as land seizures and Internet censorship, according to New York-based Human Rights Watch.
Legal scholar Xu Zhiyong was convicted in January of gathering a crowd to disturb public order and jailed for four years, after campaigning for greater official transparency. Environmental activism has escalated in recent years: In April protests against a chemical plant in the southern city of Maoming turned violent, with riot police called in.
'Unintended Impression'
Still, an official at the Hong Kong and Macau Affairs Office of the State Council, who asked not to be named because of the sensitivity of the information, said officials in Beijing were not that worried about the risk of a spillover from Hong Kong to the mainland.
The Chinese government believes Hong Kongers will soon go back to their business, according to Zhang Tongxin, honorary director of the Taiwan, Hong Kong and Macau Research Centre at Renmin University in Beijing. The protest numbers have dwindled from hundreds of thousands to scattered groups of several dozen at the main sites in the city during the daytime.
"The central government won't take action because that move would play into the hands of the protesters," Zhang said. "Beijing's intervention is on the one hand unnecessary at a time when the protests are petering out, and on the other hand would create an unintended impression that Beijing doesn't trust CY Leung's Hong Kong government, which would be used by the protesters," he said, referring to the city's top official.
Great Firewall
"The protesters are anxious while Beijing is not," he said. "The central government sits in a quite assured position and can just let it play out."
Zhang, a 23-year-old graduate student of economics at Peking University, has followed the Hong Kong events by climbing over "the Great Firewall" via VPN to read foreign news reports.
That doesn't mean he's "a sympathizer," said Zhang, who asked not to be identified. "Now it has actualized and raised impossible goals, it'd be difficult for students to make an exit," he said.
Mengyao Wu, a 25-year-old from Jiangxi Province studying communications at Hong Kong Baptist University, said she disagreed with the decision to block parts of the city.
"It's not the right way to think about these things or show your opinion," Wu said. "You can post on Weibo or something. If the number of your comments or reposts are very huge, the government will know this and do something. They will value your opinion."
State media in China gave little coverage to the protests for several days or condemned it as an illegal movement that harmed Hong Kong's prosperity. Instagram was suspended on the mainland last week, according to Greatfire.org, which monitors Internet restrictions, while posts supporting the protests were removed from the Weibo microblogging service.
Lower Standing
Shifting cultural perceptions are a factor in the lack of resonance on the mainland from the protests, according to Dingding Chen, an assistant professor of government and public administration at the University of Macau.
"Hong Kong's standing in the country is somewhat lower than what it used to be," Chen said. "That previous sense of 'looking up to them' was lost among mainlanders. Most mainlanders now treat Hong Kong just as a shopping place, and wouldn't care too much about the movement here."
China is still prepared for a worst-case scenario, said Ding Xueliang, a professor of political science at Hong Kong University of Science and Technology.
"The current situation is not the best, but certainly far from the worst for Beijing," said Ding. "At least there's no big-scale conflict that took place."
Waste Time
Among the mainland students, Zhang from Peking University said his interest in the Hong Kong protests is because it is relevant to his study area.
"Most young people I know care most about how to make more money and have a better career," he said. "They wouldn't waste their time in thinking about a protest so far away."
Before it's here, it's on the Bloomberg Terminal.
LEARN MORE