GT Advanced Analyst Sell Calls Are Well Timed: Chart of the Day
David Wilson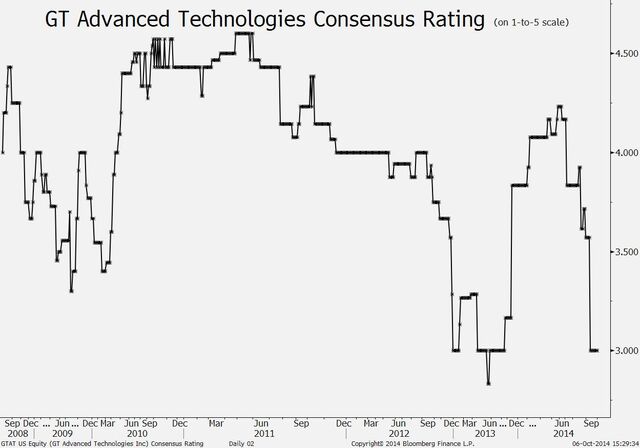 GT Advanced Technologies Inc. was losing favor with analysts before seeking Chapter 11 bankruptcy protection yesterday, though not enough to suggest the maker of sapphire screens for mobile devices was headed for a filing.
As the CHART OF THE DAY shows, GT Advanced had a consensus rating of 3 at the end of last week, according to data compiled by Bloomberg. The figure for the Apple Inc. supplier approached the stock's low of 2.83, reached in May of last year. The scale goes from a low of 1 to a high of 5.
Analysts at CLSA Ltd., Raymond James Financial Inc. and Dougherty & Co. lowered GT Advanced to sell or an equivalent rating during the past two months. They joined EVA Dimensions LLC, which put a sell recommendation on the Merrimack, New Hampshire-based company's shares in July 2013.
"To be clear, we did not see this coming," Pavel Molchanov, an analyst at Raymond James, wrote yesterday in a report. "We don't think anyone else did either." The Houston-based analyst cut his recommendation on Aug. 28 and wrote then that he was making "a tactical rating change" after the stock price more than doubled in 2014.
GT Advanced peaked at a record $20.54 on July 2 and ended last week at $11.05. The shares plummeted 93 percent yesterday, to 80 cents, in response to the filing.
The 3 rating was equaled last week by 49 other companies in the Standard & Poor's SmallCap 600 Index, which included the stock. Forty-six more had lower ratings. The average for all of the index's companies was 3.79.
Before it's here, it's on the Bloomberg Terminal.
LEARN MORE